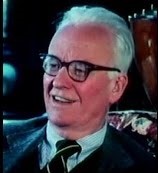 The Library's Fortieth Anniversary year is going out on a high note with the release of "A Visit to Wilmarth S. Lewis and Horace Walpole in Farmington," a remarkable video of Lewis at home reminiscing about his interest in Walpole and the building of his collection. The video, originally produced as part of Yale '77 by the university and WTNH-TV, provides an unprecedented opportunity for modern audiences to "visit" with Lewis in the library building, looking as it did when still a private residence.
The year of celebration kicked off with a festive lawn party in September 2019 to celebrate the opening of the newly renovated Cowles House (representing the completion of twenty years of major facilities renovations on the Farmington campus), the opening of a Lewis- and Walpole-focused exhibition, and the year marking Lewis's bequest and thus the start of a new era of the Lewis Walpole Library under the administration of Yale University.
The insightful exhibition entitled Rescuing Horace Walpole: The Achievement of W.S. Lewis, curated by scholar and member of the LWL Board of Managers Stephen Clarke, first on view at the LWL, and now available as an electronic exhibition, with images of the items accompanied by label and didactic texts and the digitized exhibition brochure.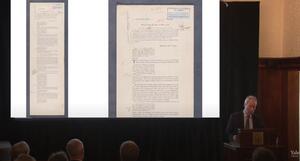 Coinciding with the opening of the exhibition in Farmington in September was the day-long on Scholarly Editing of Literary Texts from the Long Eighteenth Century, held in New Haven, which featured presentations by and about editors of major editions of the papers of eighteenth-century figures. Mr. Clarke opened the event with a talk on The Yale Edition of Horace Walpole's Correspondence and Lewis as its editor. Other participants were: Robert DeMaria Jr. who spoke on The Yale Edition of the Works of Samuel Johnson; Elaine Hobby on Editing Aphra Behn in the Digital Age; Peter Sabor on Editing Frances Burney's Journals and Letters, 1972-2019; Michael F. Suarez, S.J., on The Collected works of Alexander Pope; and Gordon Turnbull on The Yale Editions of the Private Papers of James Boswell (Yale Boswell Editions). Misty Anderson served as Chair. Videorecordings of the morning and afternoon sessions of the symposium are available on the Yale Library YouTube channel. In late October, Clarke spoke about Lewis to members of the Farmington community at the LWL as part of the evening talks offered in collaboration with the Farmington Libraries. The celebration of Lewis, Walpole, and the fortieth anniversary of the bequest continued with the world premiere of Nathalie Dupuis-Desormeaux's piano composition The Lewis Walpole Tableaux in January.
We look forward to the next forty years and hope you will join us for the journey.   
by Susan Walker