Reading Room
Practical Matters regarding the Reading Room
As of May 16, 2022, Yale University Library special collections reading rooms are open to all researchers who are fully vaccinated and boosted, when eligible. 
Non-Yale researchers are required to register in the Yale Library special collections system, complete the University vaccine attestation process in advance of their visit, and show a copy of their approval email for admission to the library on the day of their visit. 
In addition, international researchers arriving from overseas must also adhere to the Yale travel requirements for visitors from other countries (SEE U.S. Restrictions and Requirements for International Travel under the Yale Covid 19 Travel Policy https://covid19.yale.edu/travel-policy)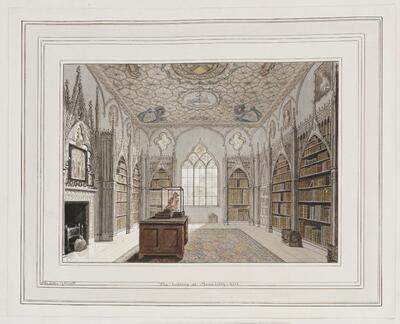 The Reading Room is climate-controlled. Some readers find the temperature chilly, so it is advisable to bring a sweater or shawl, especially in summer. Please note that any sweater or shawl should either be worn while in the Reading Room or hung in one of the lockers down the hall while not in use.
Requesting material
Paging is available twice daily: 10 a.m. and 2 p.m. Requests for books, bound manuscripts, and graphic materials may be made through Yale's Library catalog Orbis (or Quicksearch), or through the Archives at Yale. Requests for other material not in Orbis can be made directly through Aeon. To place such a request, login to your Aeon account, click on "Can't find it?" link on the left side menu, then, under Lewis Walpole Library, click on either manuscript or book and fill out the form. Please ask for assistance if you need help. 
Request Limit
There is a limit of ten requests per person. We may override the request limit on an individual case basis. Please contact us if you have a need to have the limit overridden. It is extremely important that you still adhere to the five-item limit for requests at any other special collections repository elsewhere at Yale (e.g. Beinecke, Manuscripts and Archives, Medical Historical Library). 
Supplies
Book supports, weights, bookmarks, and magnifying glasses are available on the table. Task lamps, a small camera, and a light sheet are available upon request on a first come first served basis.
Wireless internet access
This is provided throughout the Lewis Walpole Library and the Timothy Root House. In order to access the secure wireless network at the LWL, including access to the subscription databases, researchers in the autumn will authenticate through CAS using their netids.
Public computer terminal and printer
There is a black and white printer in the Reading Room, but there is no self-service photocopier. Any requests for printing or photocopies must be made with the monitor. Approval and any limits on the amount of printing or photocopying is at the discretion of the monitor. No material published earlier than 1950 or in poor condition will be photocopied.
IN THE EVENT OF AN EMERGENCY
Please follow the instructions of the Reading Room monitor. In case of fire, exit the Reading Room promptly, go out the Exit door to the right in the hallway and through the exterior door from the stairway. Proceed to the Root House terrace.