Charles A. Ryskamp Travel Grant for Undergraduates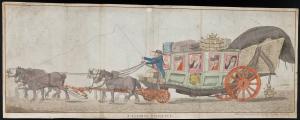 The Charles A. Ryskamp Travel Grant is awarded on a competitive basis to a Yale College senior whose senior essay project would benefit from extended use of the Lewis Walpole Library's collections.
The grant provides funds for regular travel during the academic year to Farmington in support of senior essay research in the library's collections, and, as necessary, occasional overnight accommodation in an eighteenth-century house on the library's campus.
The library's staff will be available for research consultation and guidance throughout the year.
Members of the Yale College senior class are invited to apply.
Application Details for Charles A.

Ryskamp

Travel Grants
Applicants should submit the following via email to walpole@yale.edu:
A résumé
A research proposal of not more than 1000 words, including an explanation of how the collections of the library would play a role in research for the senior essay
A letter of reference addressing the merit of the project should be sent separately by each applicant's senior essay advisor directly to the walpole@yale.edu email account.
The application should be submitted prior to or during the research phase of the senior essay project.
For more information, please contact Nicole L. Bouché, W.S. Lewis Librarian and Executive Director, 860-677-2140, or nicole.bouche@yale.edu
Frequently Asked Questions
How much time do I need to plan to spend at the Lewis Walpole Library?
Students awarded the Charles A. Ryskamp Travel Grant, are not required to spend a specified amount of time at the Library, but the award recipient should plan to spend a minimum of several days at the Library during the course of the research period.
What is the deadline for the application?
The library prefers applications to be submitted by late in the fall semester of the student's senior year; however, applications may be submitted up to the first Monday in April if necessary.
Who was Charles A. Ryskamp?
Charles A. Ryskamp, director of the Pierpont Morgan Library (1969-1986) and of the Frick Collection (1987-1997), was a long-time member of the Lewis Walpole Library Board of Managers from 1980 until his death in 2010.
On February 15, 2012, Matthew Hargraves, Associate Curator for Collections Research at the Yale Center for British Art, presented a lecture entitled "Charles Ryskamp: A Life in Arts and Letters," at the Frick Collection in New York. In the lecture, Hargraves discussed W.S. Lewis's influence on Ryskamp's career. The lecture was streamed live and video of the entire lecture can be seen online at ForaTV.
How do I find out more about the Library's collections?
Check out the Finding  Lewis Walpole Library Collection Material research guide or contact us at phone: 860-677-2140, or by e-mail: walpole@yale.edu.