Manuscript and Archival Materials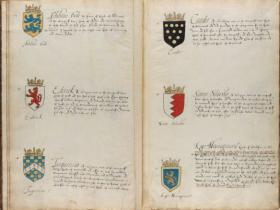 The manuscript collections at the Lewis Walpole Library provide invaluable insight into eighteenth-century life.
Well known for the approximately 3000 letters to and from Horace Walpole and a further 3000 photostats and transcripts of letters from other collections which together have been published in the Yale Correspondence, the library also holds other manuscript materials by or related to Horace Walpole. Among them are manuscript copies of Aedes Walpolianae and the Mysterious Mother, as well as Walpole's Commonplace Books (I, II, and III), Books of Materials, and many books and examples of graphic art bearing annotations in his hand.
Also included in the holdings are account and receipt books, bills and other documents of household and merchant establishments, as well as travel diaries and poems. Among the literary manuscripts is Louis XVI's autograph manuscript translation of Horace Walpole's Historic Doubts on the Reign of Richard III. The library also holds a ten-volume collection of mostly Italian music manuscripts compiled by Thomas Gray.
Other manuscripts include significant holdings of: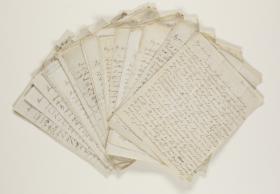 personal and official diplomatic correspondence from eighteenth-century notables such as
correspondence of friends and relatives of Horace Walpole including

Anne Seymour Damer
Lady Diana Beauclerk
Agnes and Mary Berry
the Clement family

diaries and memoirs
See the Finding Lewis Walpole Library Collection Material Research Guide for search help.
Although only a portion of the collection has been cataloged in Orbis, the Yale University online catalog,  and Quicksearch Books+, including most bound manuscript volumes and recent acquisitions, the rest is accessible through a number of card indices and unpublished finding aids at the library in Farmington.
There are published finding aids to the Horace Walpole Collection and several other collections of original manuscripts, along with other archival holdings, in the Lewis Walpole Library in Archives at Yale.  View the Horace Walpole Collection finding aid .  
Several manuscripts, printed texts with marginalia, ephemera, and objects have been digitized and are included in the Library's Digital Collections. View digitized manuscripts and related material. 
The manuscript collection has been described in several articles in the Yale University Library Gazette listed below. *Please note these articles are from JSTOR and only available to the Yale community.
THE MANUSCRIPT COLLECTIONS AT THE LEWIS WALPOLE LIBRARY
NON-WALPOLEAN MANUSCRIPTS IN THE LEWIS WALPOLE LIBRARY
Archon Directory: Manuscript holdings as of 2004 are also noted under the indexes of the National Register of Archives in the UK, and the library is listed in the Archon Directory. 
Walpole's manuscripts, including those held at the Lewis Walpole Library, are also indexed in Index of English Literary Manuscripts