History of the Library
Lewis, Walpole, and the Library
The W.S. and Annie Burr Lewis Oral History Project
Historic Buildings on the LWL Campus
Renovation and Preservation of Historic Buildings
Selected further reading and information
Lewis, Walpole, and the Library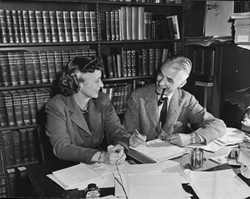 Wilmarth Sheldon ("Lefty") Lewis, was born in Alameda, California in 1895, attended the Thacher School in Ojai, California, and graduated from Yale University, a member of the Class of 1918.
Lewis, began collecting books not long after his graduation from Yale. Then, on a trip to London in 1923, he purchased a copy of John Heneage Jesse's George Selwyn and His Contemporaries that was full of manuscript notes by Lady Louisa Stuart. Her lively commentary about the people and events described in the book piqued Lewis's interest and led him eventually to Horace Walpole.
Walpole (1717-1797) the youngest son of Sir Robert Walpole, England's first prime minister, was an energetic letter-writer for most of his long life. The view of the eighteenth century afforded by Walpole's correspondence fascinated Lewis and led to his lifelong pursuit of all things Walpolian. Lewis acquired books, manuscripts, and prints as well as graphic and decorative arts, all in an extraordinary effort to gather information about Horace Walpole and his times, his house at Strawberry Hill in Twickenham, his interests, and his friends and contemporaries.
Lewis spent nearly half a century, until his death in 1979, editing Walpole's correspondence. Fully indexed and annotated, The Yale Edition of Horace Walpole's Correspondence extends to 48 volumes and remains a key resource for scholars of the eighteenth century, as well as a noteworthy accomplishment in the field of scholarly editions.    Lewis dedicated the Yale Edition to his wife, Annie Burr Auchincloss Lewis (1902-1959). His tribute to Annie, and to their remarkable partnership in bringing the edition to fruition, was published in the preface to volume 20 (pages x-xi), shortly after her death. 
Lewis moved to Farmington not long after his graduation from Yale.  He met Annie there, in 1919; where the following year she  graduated in from Miss Porter's School.  Lewis purchased the Cowles House on the corner of Main Street and Meadow Road in 1926. The Lewises were married in 1928, and settled into their home on Main Street.
Mrs. Lewis was an essential participant in her husband's collecting. She served as the first curator of prints.  She was also active in support of historic preservation in Farmington and beyond, perhaps most notably as Vice-Regent for Connecticut for the Mount Vernon Ladies Association. Aside from a few years spent in Washington during World War II, where Mrs. Lewis worked at the Red Cross and Mr. Lewis worked at the Office of Strategic Services, they lived at 154 Main Street in Farmington until their deaths.
"A Visit to Wilmarth S. Lewis and Horace Walpole at Farmington" interview video is now available on the Yale Library YouTube channel.
The exhibition "Rescuing Horace Walpole: The Achievement of W.S. Lewis" was first presented at the library in 2019 and is now available online.  Curator and member of the library's Board of Managers Stephen Clarke  gave a related online talk for The Bibliographical Society entitled "Horace Walpole and W.S. Lewis: A Collector Revealed."
An exhibition "Dancing on a Sunny Plain: The Life of Annie Burr Auchincloss Lewis", was mounted at the library in 2012.   Further information on Annie Burr Lewis and her life is available from the exhibition brochure.
A further exhibition that focuses on Annie Burr Lewis's philanthropic endeavors and service to educational and cultural organizations, "Doing Good by Stealth: The Philanthropy and Service of Annie Burr Lewis," is available online. 
For further information on the life and collections of Wilmarth Sheldon Lewis, consult his two memoirs: Collector's Progress (1946)  and One Man's Education  (1967).
Wilmarth Sheldon Lewis selected bibliography
---
The W.S. and Annie Burr Lewis Oral History Project
In 2011 the library initiated an oral history project to record and preserve memories and reflections from people who were the Lewises' friends, family, neighbors, colleagues, associates, and collaborators.  These narratives are included to the library's archives and offer a valuable resource for understanding the rich and dynamic life of these two remarkable individuals.
Those interested in contributing their memories of the Lewises and their life in Farmington to this project are invited to provide the library with written or recorded memories in person, by mail, or by email. An article announcing the Oral History project appeared in the Yale Daily Bulletin on August 8, 2011.
For more information:
Nicole L. Bouché, W.S. Lewis Librarian & Executive Director
The Lewis Walpole Library, Yale University
P.O. Box 1408, Farmington, CT 06032
860 677-2140  nicole.bouche@yale.edu
---
Historic Buildings on the LWL Campus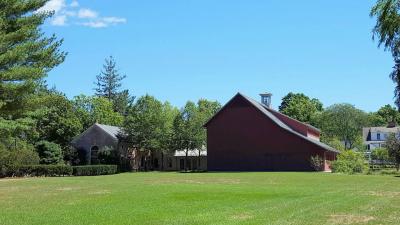 The library sits on 14 acres of mostly cleared land about a mile south of Farmington Center. The land is bordered on the west by the Pequabuck River just south of its junction with the Farmington River and by the remains of the Farmington Canal, which ran from New Haven to Northampton, Massachusetts, 150 years ago. Nearby are some excellent walking, jogging, and bike routes. Some specimen trees of interest among the many maples on the property are a Dawn Redwood (Metasequoia), planted by the Lewises, and a healthy American Elm. Most open land is left as field or cultivated as lawns.
The Cowles House, the home originally purchased by Lewis in 1926, is one of four historic structures on the site, and the most prominently seen from Main Street. It is a two-story white Georgian-style house built around 1784 for Revolutionary War General Solomon Cowles. According to Jared Edwards, FAIA, the architect of the house was Isaac Fitch of Lebanon, CT.  The front porch wrapping two sides of the house is thought to be one of the earliest examples of a porch original to the design, and not a later addition. It is also believed that the intricately carved wood paneling and trim in the interior is the work of Hessian prisoners of war.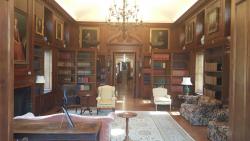 The Lewises engaged the architect William Adams Delano to design their late 1920s addition to the house to accommodate their growing collection. They called it the "New Library", to distinguish the room from the earlier  library parlor in the Cowles House itself. Further extensions to the complex were added in later years.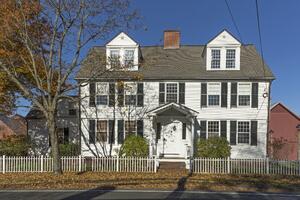 Next door to the Cowles House is a simpler two-story white frame Colonial-style house, built for Army Captain Timothy Root, also around in 1784. It was completely renovated in 2001 to accommodate scholars working with the Library's collections, and now boasts nine bedrooms, each with private bath, a  Fellows self-catering kitchen, as well as sitting rooms and an extensive outdoor terrace, fully renovated in 2015. 
In the center of the library "campus quadrangle" is the Thomas Curricomp House, originally built around 1750 by local Native Americans as part of their residence. It was moved to its present location to house an exhibit of artifacts first unearthed on the site by Bill Day, the Lewises' caretaker. Later, Yale archaeologists organized several digs on the site, under the auspices of the Yale's Peabody Museum of Natural History.  The exhibit was deinstalled and artifacts placed in storage in 2005.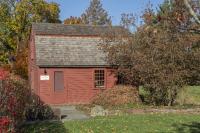 Exterior refurbishment of the Thomas Curricomp House was completed in 2015.
For further information about the background of the house  when it was known as the William Day Museum and the archeological history of the site, see chapter 34 in W.S. Lewis's One Man's Education.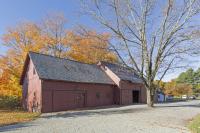 Finally, a large red barn (18th/19th century) of eight bays with full loft completes the historic Lewis Walpole Library buildings complex. Originally used for agriculture and livestock, it now houses the library's facilities workshop and grounds equipment.
Renovation and Refurbishment of the LWL Campus,
2000 - present
Since the late 1990s, the Library has been engaged in a series of major facilities projects to preserve and restore historic structures and the history of the property, and to provide the Library staff and scholarly community with modern facilities for the stewardship and use of the Lewis Walpole Library collections.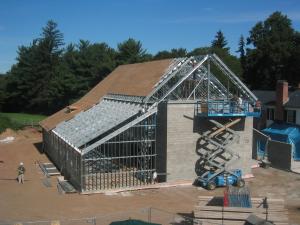 In 2007 the library undertook a major renovation project, adapting and building on to the existing Lewis residence, which resulted in a new reading room, collection storage, staff and conservation workspaces, an exhibition gallery, and a classroom.  The award-winning building was designed by Centerbrook Architects and Planners (Centerbrook, Connecticut.) 
Renovation and Preservation of Historic Buildings
In keeping with the Lewises' request that the property be kept in "excellent condition", the LWL engaged Yale Facilities and Nelson Edwards Company Architects to develop a master plan for the entire complex. Work completed includes: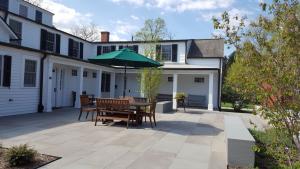 exterior refurbishment of the Cowles House (1784); installation of an emergency generator to ensure continuity of operations.

further exterior refurbishment of the Root House, first renovated in the 2000 to  house residential Fellows and other guests more comfortably.
 rebuilding of the Root House terrace.
repairs to the structure and roofing of the historic barn (18th / 19th century).
exterior refurbishment of the Thomas Curricomp House.
Most recently Knight Architecture was engaged to design the refurbishment of the Cowles House interior. Completed in the summer of 2019, the project entailed structural and infrastructure enhancements such as the installation of air conditioning, a fire suppression sprinkler system, new electrical wiring, and the installation of handicapped accessible bathroom and a lift to provide access to the ground floor. Systems improvements were sensitively installed with an eye to maintaining period details and minimizing the intrusiveness of the modern fixtures. Rooms were repainted, new carpeting and drapery installed, and Lewis-era furniture was reupholstered, lamps rewired, paintings rehung, and cases installed with a selection of eighteenth-, nineteenth-, and twentieth-century artifacts.  
Selected further reading and information:
(Please note some links may lead to licensed database content. Click on this link to learn how to use VPN to access electronic resources from off-campus)
Bessell, Welsley Sherrell. "The White Pine Series of Early American Documents with Measured Drawings from the George Lindsay Collection: the West Parlor and Hall of the Cowles-Lewis House." In An Architectural Monograph: Farmington, Connecticut. 11-16. New York: R. F. Whitehead, 1926.
Chapman, R. W., and W. S. Lewis. "
Strawberry Hill in New England
."
Listener
[London, England] 24 July 1952: 148+.
The Listener Historical Archive 1929-1991
. Web. 26 June 2017. 
Lewis, W. S. Collector's Progress. New York: Knopf, 1951.
Lewis, W. S. One Man's Education. New York: Knopf, 1967.
Yale Bulletin and Calendar News Stories, 24, no. 3 (1996).
"Life Explores World's Finest Walpole Library."
Life Magazine
, 23 October 1944, 116-117.
Notes by Lady Louisa Stuart on George Selwyn and His Contemporaries by John Heneage Jesse. Edited from the original manuscript by W.S. Lewis. New York: Oxford University Press; London: H. Milford, 1928.
Shenker, Israel. "Can He Be the Real Horace Walpole–or Is He Wilmarth Lewis, a Yale Scholar Who 'Lives' in the 18th Century?" Photographs by Marvin E. Newman.
Smithsonian
10 (May 1979): 102-108.
Starbuck, David R. "
The Middle Archaic in Central Connecticut: The Excavation of the Lewis-Walpole Site (6-HT-15)." 
Early and Middle Archaic Cultures in the Northeast. 
Edited by David R. Starbuck and Charles E. Bolian. 
Rindge, N.H.: Dept. of Anthropology, Franklin Pierce College, 1980.