Seminars, Workshops & Panel Discussions
Knight Errant of the Distressed: Horace Walpole and Philanthropy in Eighteenth-Century London
Graduate Student Seminar  
Rescheduled for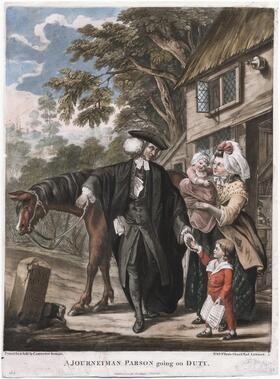 August 25, 2023
10:30 am to 3:00 pm
Location:
The Lewis Walpole Library
154 Main Street
Farmington, CT 06032
Event description:
The Lewis Walpole Library is pleased to host a collections-based seminar for graduate students around the exhibition Knight Errant of the Distressed: Horace Walpole and Philanthropy in Eighteenth-Century London currently on display at the library through June 30, 2023. The exhibition is organized by guest curator Andrew Rudd, Senior Lecturer in English at University of Exeter.
The seminar will explore the rich and multifaceted culture of philanthropy in eighteenth-century England. Participants will have a unique opportunity to study materials from the exhibition and the library's wider collections, which encompass visual art, music, the sentimental tradition, topographical images and a host of ephemeral and manuscript items used to promote good causes and charitable giving.
The  program will begin at 10:30 with a discussion of the exhibition with Professor Rudd. Following a break for lunch provided by the library, we will gather in the reading room at 1:00 pm for discussion around items selected from the library's collection with Professor Rudd and for short presentations on related topics by invited guests Patricia Comitini, Professor of English, Quinnipiac University; Basie Gitlin, Director of Development, Yale University Library; James Jeter, Civic Allyship Fellow, Dwight Hall at Yale, and Justin Zaremby, Counsel, Patterson Belknap Webb & Tyler LLP.
Participants may also be interested in viewing the recording of Professor Rudd's online lecture Print Philanthropy in the Age of Horace Walpole.
Space is limited. Email walpole@yale.edu
_____________