The Lewis Walpole Library at ISECS Congress 2019, Edinburgh
The Lewis Walpole Library is delighted to support the ISECS Congress 2019, being held Sunday, July 14 through Friday, July 19 in Edinburgh. The Library is sponsoring the grand reception and two panels. Look for us also at the Publishers' Showcase in McEwan Hall where we will have a table along with Yale University Press who will be featuring the publications from the Lewis Walpole Series in Eighteenth-Century Culture and History. See you in Edinburgh!
Monday, July 15, 6 PM to 8 PM
All congress attendees are invited to the Grand Reception in the stunning Grand Gallery at the National Museum of Scotland, Chambers Street, just a few minutes' walk from the university. Doors open at 7 pm and wine and canapes will be served to the accompaniment of traditional Scottish pipers. 
PANELS
Session 5, Panel 136 - Gothis Horrors, Catholic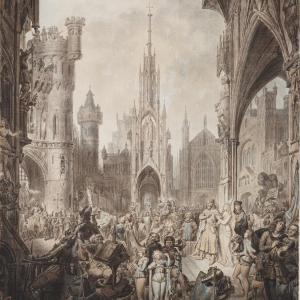 Undertones, and Political Caricature: Archival Riches of the Lewis Walpole Library 
Chair: Stephen Clarke (University of Liverpool)
Dale Townshend (Manchester Metropolitan University) Catholicism and the early Gothic Revival
Misty Anderson (University of Tennessee, Knoxville) Staging The Mysterious Mother
Elizabeth Denlinger (Carl H. Pforzheimer Collection of Shelley and his Circle, New York Public Library) The Half-Extinguished Light: Looking to Gothic Art to Illuminate Frankenstein
Claire Grogan (Bishop's University) The Challenges of Political Caricature: Identifying the women in Contrasted Opinions of Paine's Pamphlet (May 26 1791)
 
Session 15, Panel 490 - Visual and Literary Topography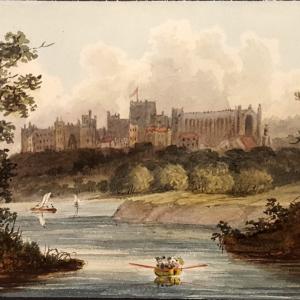 Chair: Cynthia Roman (The Lewis Walpole Library, Yale University)
Dana Arnold (Art History, Art History and World Art Studies, The University of East Anglia) "Through a Glass Darkly:" the Visual and Verbal Topographies of a Sensory Aesthetic
Stephen Bending (Director, Southampton Centre for Eighteenth-Century Studies, Director MA Programmes, English Department, University of Southampton) Walpole's Pleasures: Topography and
fantasy at Strawberry Hill
Matthew Sangster (Lecturer in Eighteenth-Century Literature and Material Culture, University of Glasgow) Collaborative Versions of the British Metropolis
Jennifer Johnson (Junior Research Fellow, St John's College, Oxford) William Gilpin's Picturesque Composition and Twentieth-Century Abstraction