Welcome
At the library....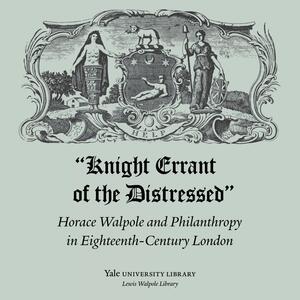 The library is thrilled to announce the opening of its new exhibition, "Knight Errant of the Distressed": Horace Walpole and Philanthropy in Eighteenth-Century London, curated by Dr. Andrew Rudd, Senior Lecturer, English Department, University of Exeter. This exhibition uses images, manuscripts, artefacts and extracts from publications and correspondence to situate Walpole within the burgeoning philanthropic culture of his age. It reveals Walpole's secret giving to prisoners and other good causes and examine the principles which underlay his philanthropy. A main aim of the exhibition is to stimulate discussion about philanthropy today. 
The exhibition opens Wednesday, May 11 and is open to the public every Wednesday from 2-4:30 PM, no appointment needed. 
And for those unable to visit in person, you can view the online version of the exhibit here: https://onlineexhibits.library.yale.edu/s/knighterrant/page/intro
*Please be aware there are still Covid Protocols in place for visitors. Requirements for visiting the exhibition gallery can be found on our Exhibitions page.