Concerts and Theatrical Performances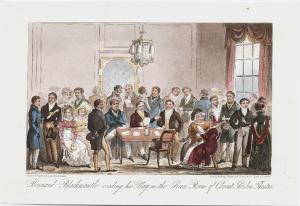 The Lewis Walpole Library's public programming includes support for music and drama.
In 2016, the library introduced a series of free chamber concerts in Farmington featuring works from the library's collection of eighteenth-century music. Performers included the ensembles New Vintage Baroque and Grand Harmonie .
---
Upcoming Performances
Horace Walpole's The Mysterious Mother

: A Staged Reading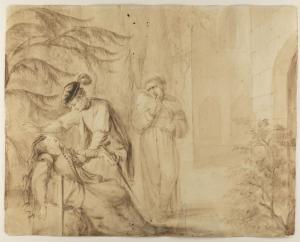 Presented by the Lewis Walpole Library and the Yale Center for British Art
Wednesday, May 2, 2018, 5:30 pm, Yale Center for British Art
Abridged by David Worrall, Emeritus Professor of English at Nottingham Trent University
Directed by Misty G. Anderson, Lindsay Young Professor of English, University of Tennessee
As part of the year-long celebrations of the tercentenary of Horace Walpole's birth, the Lewis Walpole Library and the Yale Center for British Art are collaborating to present a staged reading of The Mysterious Mother. Completed just a few years after Walpole's celebrated gothic novel The Castle of Otranto (1764), this under-appreciated tale of incest and intrigue was initially circulated only among the author's friends. Walpole never permitted it to be performed during his lifetime except as a private theatrical.  This performance is free and open to the public.
Following the reading there will be a talk-back session moderated by Catherine Sheehy, Professor of the Practice of Dramaturgy and Dramatic Criticism, Yale University.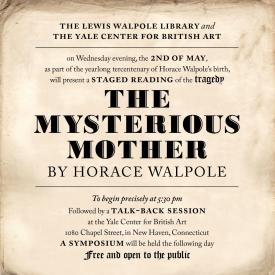 CAST:
Countess of Narbonne         Georgina Lock
Count Edmund, her Son        Carlos Guanche  
Florian, his friend                      Gilberto Saenz  
Adeliza                                           Chelsea Phillips
Benedict                                        Charlie Gillespie 
Martin                                            Justin Crisp 
Peter Porter                                 Dale Townshend      
Servant                                           Stephen Clarke
In connection with this performance, the library has also organized Horace Walpole's The Mysterious Mother: A Mini-conference. This event is being held on Thursday, May 3. For more information about this mini-conference, please see our Lectures & Conference page.