Exhibitions
The exhibition gallery is a public space within The Lewis Walpole Library that is open Wednesdays 2 to 4:30 pm when an exhibition is on view. 
The Lewis Walpole Library usually develops and presents two to three exhibitions that draw from its collections each year, most with associated programming. In addition to the exhibitions on view at the Library in Farmington, the Library collaborates on and contributes to exhibitions held on Yale's campus in New Haven and at other institutions.
---
Is It Any Good? Prints, Drawings, and Paintings at the Lewis Walpole Library      
On view September 22, 2023 through June 28, 2024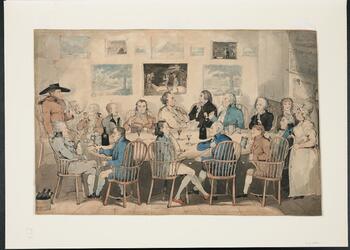 Curated by Cynthia E. Roman, Curator of Prints, Drawings, and Paintings, the Lewis Walpole Library
Art historians, curators, and connoisseurs often pose the question, Is it any good? evoking a sense of quality manifest in canonical works of art. By contrast, when building a collection of eighteenth-century prints that would become a cornerstone for research at the Lewis Walpole Library, W.S. and Annie Burr Lewis envisioned a visual collection that is essentially archival. Prints were valued foremost as documents that would improve their library dedicated to the life and times of Horace Walpole and to 18th-century studies. The Lewises' iconographic approach, however, does not preclude the importance of assessing what is good. Aesthetic, material, and technical attributes are integral to understanding the power of visual art and artifacts to communicate the eighteenth-century histories they document. Asking Is it any good? this exhibition presents a selection of prints, drawings, and paintings at the Lewis Walpole Library to explore the intersections of quality and documentary value. 
---