The Lewis Walpole Library develops and presents two to three exhibitions that draw from its collections each year, most with associated programming. In addition to the exhibitions on view at the Library in Farmington, the Library collaborates on and contributes to exhibitions held on Yale's campus in New Haven and at other institutions.
Current Exhibitions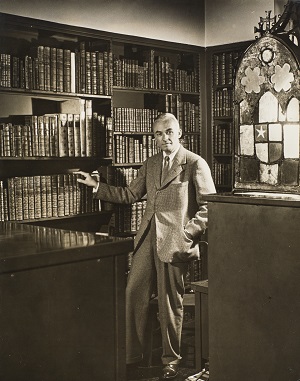 Rescuing Horace Walpole: The Achievement of W.S. Lewis
September 20, 2019 to January 24, 2020
Wilmarth S. "Lefty" Lewis (Yale Class of 1918) devoted the better part of  his life to building the world's greatest collection relating to Horace Walpole (1717–97), the British writer, collector and historian. He also championed Walpole's importance as a figure in English eighteenth-century life, doing so most effectively as general editor and guiding spirit of the Yale Edition of Horace Walpole's Correspondence (Yale University Press, 1937-83), whose 48 volumes are widely acknowledged to this day as a model of scholarship in historical editing.
This fall's exhibition, Rescuing Horace Walpole: The Achievement of W.S. Lewis,  pays tribute to Lewis's life and legacy as a scholar-collector, on the fortieth anniversary of his bequest of the Lewis Walpole Library to his alma mater, Yale University.  Drawing heavily on the recently cataloged Lewis archives, the exhibition shows how the total dedication of the collector resulted in a collection of extraordinary range and depth, and expressed itself in some surprising ways. It also evolved into a monumental achievement of scholarship in the Yale-Walpole edition and, in the process, transformed perceptions of Walpole and his age.  
A related symposium, Scholarly Editing of Literary Texts from the Long Eighteenth Century , on September 21st, in New Haven, will explore the past, present, and future of scholarly editions of the collected works and correspondences of early modern British writers, ranging from the Yale Horace Walpole (1717-1797) and Samuel Johnson (1709-1784) editions, via the Burney and Boswell papers to new editions now being planned for Alexander Pope (1688-1744)  and Aphra Behn (1640?-1689). For further information please contact the Library.
Curator Stephen Clarke will give a talk  Rescuing Horace Walpole and Re-Discovering W.S. Lewis: a Collector Revealed,   on Monday, October 28, 2019, 7 pm, at the Lewis Walpole Library. More information about this talk. 
---