The exhibition is open Wednesdays, 2-4:30, and by appointment. 
Current Exhibition
Global Encounters and the Archives: Britain's Empire in the Age of Horace Walpole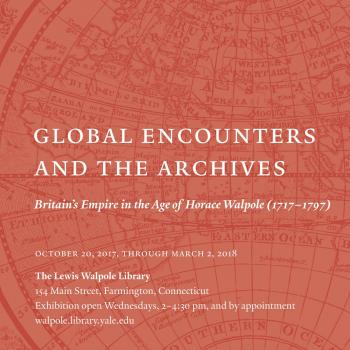 October 20, 2017 - March 2, 2018
Curated by:
Justin Brooks, Doctoral Candidate in History, Yale University
Heather V. Vermeulen, , Ph.D., Lecturer in African American Studies, Yale University
Steve Pincus, Bradford Durfee Professor of History, Yale University
Cynthia Roman, Curator of Prints, Drawings, and Paintings, The Lewis Walpole Library
As part of the year-long celebrations of the 300th anniversary of Horace Walpole's birth, Global Encounters and the Archives: Britain's Empire in the Age of Horace Walpole draws on the Lewis Walpole Library's rich collections to bring Walpole's global interests to light. As befitting the son of a prime minister (Sir Robert Walpole), the nephew of the auditor-general of the Revenue of America (Horatio Walpole), and the close friend of a secretary of state (Henry Seymour Conway) who oversaw important imperial affairs, Horace Walpole well understood the partisan conflicts that helped shape the British Empires. A lively collaboration between the Lewis Walpole Library and Yale faculty and graduate students, this exhibition takes full advantage of the diverse range of archival resources and special collections held by the library, including manuscripts, printed texts and graphic images in presenting conflicting visions of empire through the domains of political economy, diplomacy, slavery and indigenous peoples.
In addition to the physical exhibition, the library has also created an online version. This online exhibit includes images of the manuscripts, rare books, pamphlets, and prints featured in the exhibit together with label texts and essays written by the curators of the physical exhibition. View the online exhibit
In association with this exhibition, the library will sponsor a two-day conference in New Haven on February 9-10, 2018. The conference papers will present new archival-based research on Britain's global empire in the long eighteenth century.