Exhibitions
The exhibition gallery is a public space within The Lewis Walpole Library that is now open to the public during designated visitor hours Wednesdays 2 to 4:30 pm. All visitors must be vaccinated and boosted when eligible. See "Vaccination Requirements," below, for details and required documentation.
Library hours and access may shift without notice in response to weather, changing pandemic circumstances and University guidance. Always check library hours on the library website before coming to campus. (Yale Library hours listed in Google are not always accurate, especially in cases of inclement weather, holidays, or other unusual circumstances.)
Vaccination requirements
In accordance with Yale University policy, COVID-19 vaccination (including a booster, if eligible) is required for visitors five and older.
You may be asked to present proof of vaccination.
Unvaccinated children under the age of five are eligible to visit. 
Acceptable proof of vaccination includes: MyChart or other provider portal record; VAMS certificate; CDC card; CT WIZ official immunization record; Photo of a vaccination card, certificate, or record (or a photo stored in a digital wallet)
Masking on campus is optional except in certain settings. Please refer to guidelines from Yale Environmental Health & Safety.
---
The Lewis Walpole Library develops and presents two to three exhibitions that draw from its collections each year, most with associated programming. In addition to the exhibitions on view at the Library in Farmington, the Library collaborates on and contributes to exhibitions held on Yale's campus in New Haven and at other institutions.
---
Knight Errant of the Distressed: Horace Walpole and Philanthropy in Eighteenth-Century London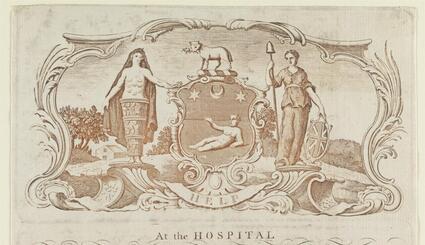 On view May 11, 2022 through June 2023
Lewis Walpole Library
Curated by Dr. Andrew Rudd, Senior Lecturer, English Department, University of Exeter
Was Walpole really a 'miser', as William Hazlitt claimed? This exhibition uses images, manuscripts, artefacts and extracts from publications and correspondence to situate Walpole within the burgeoning philanthropic culture of his age. It will reveal Walpole's secret giving to prisoners and other good causes and examine the principles which underlay his philanthropy. A main aim of the exhibition will be to stimulate discussion about philanthropy today. Walpole wrote that 'if it ever is justifiable to good sense to act romantically, it is by being the knights errant of the distressed'. The exhibition will unravel contradictions in Walpole's approach to philanthropy, illuminate the importance of charitable giving in the eighteenth century, and open up for the first time this most intimate, often hidden, aspect of Walpole's life. 
The exhibition has been extended through June 2023
This exhibition is also available online. View online exhibition
---
William Hogarth's Topographies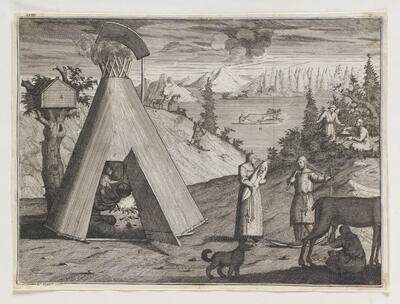 Curated by Pierre Von-Ow, PhD Candidate in Yale's Department of Art History
This online exhibition explores William Hogarth's engagement with topography, an important, if lesser-known aspect of his art. Topography is understood for this project in the broad definition provided in Dr. Johnson's Dictionary of the English Language (1755): "Description of particular places." First, a series of engraved illustrations that the artist produced in his mid-twenties for the Travels of the French explorer Aubry de La Motraye (1723) offers an opportunity to study his methods to represent territories he only visited through textual descriptions. Then the Five Days Peregrination (1732), an impromptu trip to Kent on which Hogarth embarked with four fellows to satirize the tradition of the Grand Tour as well as the practice of antiquarians in Britain, demonstrates his irreverential relationship with historical traces of the country's past. Finally, Hogarth's engraved frontispiece for Joshua Kirby's influential treatise on perspective is read in the light of the longer tradition of perspective studies in Britain and contemporary debates about the respective roles of the eye and of mathematical rules in the representation of space.
Drawing primarily from the extensive collections of Hogarth's graphic work at the Lewis Walpole Library and other Yale collections, Hogarth's Topographies seeks to contribute to recent historiographic efforts that re-read Hogarth's work in a more international perspective, most notably the "Hogarth and Europe" retrospective at Tate Britain (November 2022-March 2023), which stresses the necessity of approaching the artist's work in the light of a broader European and global context that resonates in his production.