Rescuing Horace Walpole: The Achievement of W.S. Lewis
Trial by Media: The Queen Caroline Affair
Artful Nature: Fashion and Theatricality
Fall 2019 Exhibit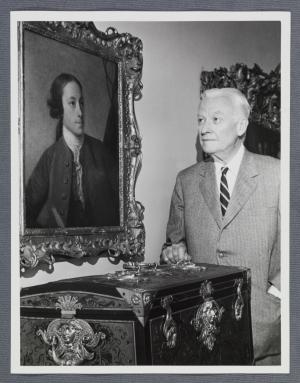 Rescuing Horace Walpole: The Achievement of W.S. Lewis
September 20, 2019 to January 24, 2020
Wilmarth S. "Lefty" Lewis (Yale Class of 1918) devoted the better part of  his life to building the world's greatest collection relating to Horace Walpole (1717–97), the British writer, collector and historian. He also championed Walpole's importance as a figure in English eighteenth-century life, doing so most effectively as general editor and guiding spirit of the Yale Edition of Horace Walpole's Correspondence (Yale University Press, 1937-83), whose 48 volumes are widely acknowledged to this day as a model of scholarship in historical editing.
This fall's exhibition, Rescuing Horace Walpole: the achievement of W.S. Lewis,  pays tribute to Lewis's life and legacy as a scholar-collector, on the 40th anniversary of his bequest of the Lewis Walpole Library to his alma mater, Yale University.  Drawing heavily on the recently cataloged Lewis archives, the exhibition shows how the total dedication of the collector resulted in a collection of extraordinary range and depth, and expressed itself in some surprising ways. It also evolved into a monumental achievement of scholarship in the Yale-Walpole edition and, in the process, transformed perceptions of Walpole and his age.  
A related symposium, Scholarly Editing of Literary Texts from the Long Eighteenth Century , on September 21st, in New Haven, will explore the past, present, and future of scholarly editions of the collected works and correspondences of early modern British writers, ranging from the Yale Horace Walpole (1717-1797) and Samuel Johnson (1709-1784) editions, via the Burney and Boswell papers to new editions now being planned for Alexander Pope (1688-1744)  and Aphra Behn (1640?-1689). For further information please contact the Library.
Curator Stephen Clarke will give a talk  on the exhibition at the Lewis Walpole Library on October 28 beginning at 7 pm.  Details to follow.
---
Trial by Media: the Queen Caroline Affair
September 9 to December 19, 2019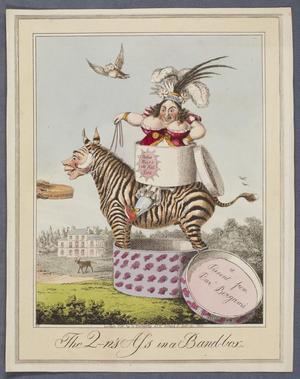 The Lillian Goldman Law Library
127 Wall Street
New Haven, CT 06511
Curated by
Cynthia Roman, Curator of Prints, Drawings and Paintings at the Lewis Walpole Library
and
Mike Widener Rare Book Librarian & Lecturer in Legal Research at Lillian Goldman Law Library, Yale Law School
Trial by Media: The Queen Caroline Affair exhibition marks the bicentennial of the Queen Caroline divorce proceedings and focuses on the prolific media coverage around the trial. The trial, which is famous among cultural historians as a media event; in law it is remembered for Lord Brougham's argument that a lawyer's only duty is "to save that client by all means and expedients."
There will be an online exhibition component following the physical exhibition. For the online exhibition, Cynthia Roman and Mike Widener have invited several scholars from diverse disciplines, at Yale and beyond, including many former research fellows, to contribute a short note focused on an object or group of objects of their choice from the Queen Caroline-related collections.
These exhibitions enable visitors to explore the rich resources at Yale on the topic of Queen Caroline and many scholarly perspectives from cultural and legal historians on this fascinating story.
---
Opens February 6, 2020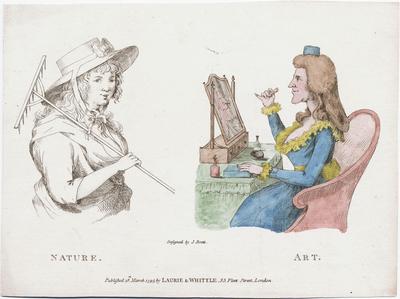 Curated by Laura Engel, Professor of English, Duquesne University
And
Amelia Rauser, Professor of Art History, Franklin & Marshall College