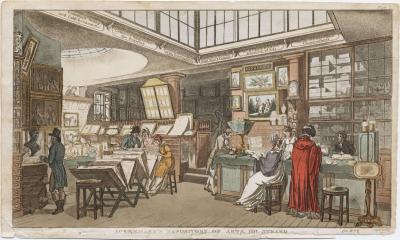 The Lewis Walpole Library houses a significant collection of fine and graphic arts. The prints and drawings make up one of the most important collections of eighteenth-century British visual satire anywhere and it is the largest such collection outside the United Kingdom. The roughly 30,000 works on paper include over 10,000 caricatures and satirical prints, important holdings of drawings, and portrait and topographical prints, most of which are cataloged and searchable in Orbis, and Quicksearch, and  searchable and browsable in Digital Collections.
The collection includes many important works by such artists as
William Henry Bunbury
George Woodward
James Gillray
Thomas Rowlandson
George Cruikshank
Isaac Cruikshank
William Hogarth
The library holds the most complete collection of fine-impression prints by Hogarth in the United States. More information about the library's Hogarth collections
Many prints, drawings, and paintings now in the Lewis Walpole Library once belonged to Horace Walpole and often include annotations in his own hand.
Portrait miniatures and oil paintings, many in fine examples of period frames, include
Allan Ramsay's portrait of Horace Walpole
portraits of members of Walpole's family and friends such as

Charles Churchill, Lady Maria Walpole and their Eldest Son Charles, by Eccardt
Sir Robert Walpole and Lady Catherine Shorter, also by Eccardt
Sir Horace Mann and Galfridus Mann, by Astley

paintings of Strawberry Hill and Twickenham
Finding Graphic Materials in the Library's Collection
Most of the library's caricatures, satires, and other graphic materials, are cataloged in Orbis, Yale's Library catalog. The Orbis records include links to the digital images. Unbound graphic works are typically cataloged individually. Usually bound volumes of graphic works are cataloged as a whole, with added name subject entries for artists included in the volume. The classification scheme for graphic works are local call number and is based on the date of the work. For example, a print published on October 23, 1786 has the call number 786.10.23.01++.
Information about searching for the library's graphic materials in Orbis
Prints, drawings, and paintings that belonged to Walpole are included in the database Horace Walpole's Strawberry Hill Collection. Horace Walpole's Strawberry Hill Collection, 
Information about Horace Walpole's Strawberry Hill Collection
The vast majority of caricatures and satires have been digitized and available on the Library's Digital Collection. It is possible to search the digital image collection by keyword, call number, or to browse by year. *Please use a browser other than Internet Explorer for best results. Go to the Digital Collection
Information about searching the Library's Digital Images Collection