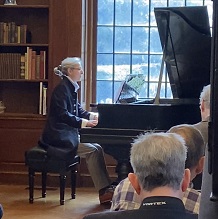 On a sunny late January Sunday, the New Library filled with guests for the premiere performance of The Lewis Walpole Tableaux: A Musical Homage by 2019-2020 Travel Grant recipient Nathalie Dupuis-Désormeaux, who describes herself as "an active composer, theorist and pianist of polyphonic art-music." Dupuis-Désormeaux studied piano and composition with Canadian composer and educator Anne Eggleston (1934-1994), and following an early career in engineering she returned to academic life to obtain her Ph.D. in Music Composition and Theory.
Intrigued by her initial encounter with the Library and its history, and by a subsequent visit to Strawberry Hill House, Dupuis-Désormeaux found further inspiration for her musical tribute in the Library's holdings of manuscripts, music scores, archived letters, essays, written verses, plays, and graphic art. 
She offered her January performance of ten musical tableaux – or picture-pieces - as a tribute to "the combined collecting efforts of Horace Walpole, 4th Earl of Orford, Wilmarth Sheldon Lewis and Annie Burr Auchincloss Lewis, and [to] the community of dedicated librarians, historians, art scholars, curators, archivists, administrators, staff, patrons and others who keep these valuable collections alive."
Prior to the recital, Library staff hosted a viewing of holdings that specifically inspired each of the ten tableaux, which Dupuis-Désormeaux later performed on the Library's 1897 Steinway grand piano:
1) The Dream
2) Anonymity and Identity
3) L'oggetto del cor mio
4) Sitting Together in the Library
5) The Gardens 
6) La Coupole de la Tribune 
7) Bacarolle
8) Ode for Music
9) Farewell, Farewell
10) Ode to Collectors – Freeing Scarlatti's Ifigenia, with quotes from [Pasquini and Scarlatti].
Among the musical devices Nathalie deployed to evoke works and themes associated with the Lewis Walpole story were musical cryptographs which embedded the names of individuals closely associated with the story of Walpole and of the Lewis Walpole Library into the music itself. These encrypted identities include Horatio Walpole, 4th Earl of Orford, Wilmarth Sheldon Lewis, and Annie Burr Auchincloss, Horace Mann and Anne Seymour Conway Damer, Walpole's mother Catherine Shorter, Thomas Gray, and Richard West and Mary Berry. In the final tableau the cryptograms of Walpole and the Lewises found in the first tableau are "supported by a three-note ostinato spelling 'LWL', in acknowledgement of the Lewis Walpole Library itself and its ongoing mission as an internationally recognized center for the study of Walpole and his times. 
The afternoon also offered a final opportunity to view the Library's fall exhibition, Rescuing Horace Walpole: The Achievement of W.S. Lewis, a tribute to the fortieth anniversary of the bequest of the Lewis Walpole Library to Yale University. Following the performance and exhibition viewing, Dr. Dupuis-Désormeaux and guests were treated to an afternoon tea and sherry reception in the newly refurbished Cowles House.