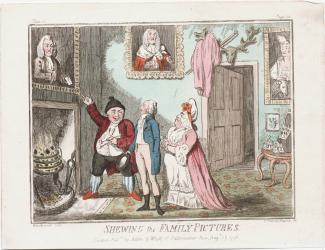 Tours of the library and its collections are now offered every Wednesday afternoon at 3:00 upon request, and no appointment is necessary for groups of four or fewer. Tours at other times are offered by appointment. Groups of five or more wishing tours should contact the library at least four weeks in advance.
Tours typically last about 45 minutes and include a walk through the interiors of the Cowles House* and library building and an introduction to the history of the library, Horace Walpole, the Lewises, the buildings and property in Farmington, and the fine and decorative arts collections. Library stacks and work areas are not open to the public, nor is the second floor of the Cowles House. Most parts of the Library building are handicapped accessible; however, the Cowles House requires ascending a short flight of stairs.
Please note that the library has closed stacks so it is not possible to browse the books, manuscripts, graphic works, and other research collection materials.
*The Cowles House is currently under renovation and not available to be viewed during the tour. 
Please contact Susan Walker, Head of Public Services, 860-677-2140,          or susan.walker@yale.edu