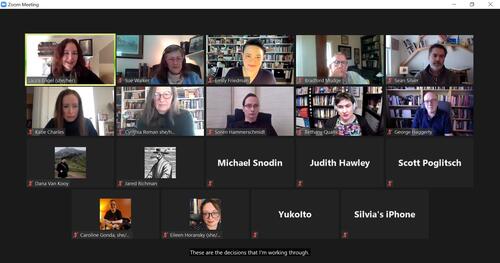 How can Library staff foster the lively exchange of ideas that characterizes participation in the LWL Fellowship program for the scholars who have been prevented by the pandemic from taking up or completing their 2019-20 or 20-21 fellowship residencies in Farmington? When in-person contact is impossible, how do staff help new Fellows feel they belong to the community of scholars of the eighteenth century that is a distinctive feature of the LWL fellowship experience, and which extends beyond Farmington itself to other library-sponsored events such as the LWL Fellows' reception at the annual meeting of the American Society for Eighteenth-Century Studies or the  occasional UK-based gatherings dubbed the "Walpole Wallow," none of which could take place this past year?
Beyond keeping in touch via email and sending out a package of LWL "swag" to each member of what has affectionately been dubbed the "Covid Cohort," how can library staff introduce and sustain the special, informal sense of LWL camaraderie, albeit from a distance?
One answer: Virtual Friday Coffees.
Among the most memorable features of  a Fellow's stay in Farmington is the Friday coffees, something Head of Public Services Sue Walker instituted many years ago now, when researchers gather in the New Library with other scholars and staff at the end of the week for a break with coffee or tea and a treat. Each week Fellows speak briefly and informally about their research and how the Library's collection supports their work. The intimate setting encourages lively conversation, and often participants suggest new avenues to pursue and collection materials to consult.
This spring semester, Sue invited all members of LWL's "Covid Cohort" to present, via Zoom, on the topics of their LWL Fellowship proposals. All former LWL Fellows were invited to participate in these virtual conversations, along with the library staff. The response was tremendous. On five Fridays a different Fellow spoke while other members of the "Covid Cohort" and former Fellows ranging from those who frequently pay return visits to the Library to others who have not been to Farmington in decades, all tuned in and connected through the stimulating conversation that the talks sparked. Presenters in this inaugural round of virtual Friday coffees included:
Mita Choudhury, Professor of English, Purdue University Northwest, on "Mapping Cosmopolitanism and the Global Space at Home." (20/21 Fellow)
Bradford Mudge, Professor of English, University of Colorado, Denver, on "Face Value: Towards a Rhetoric of Eighteenth-Century British Portraiture" (19/20 Fellow)
Katherine Charles, Assistant Professor of English, Washington College, on "Inside Stories: Interpolated Tales and the Eighteenth-Century Novel" (20/21 Fellow)
Laura Engel, Professor of English, Duquesne University, on "The Art of The Actress in the Eighteenth Century: Re-imagining Mary Berry's Fashionable Friends" (20/21 Fellow)
Sören Hammerschmidt, Residential Faculty in English, GateWay Community College, on "Modular Pope: Portraits, Poems, and Professional Authorship" (19/20 Fellow)
Sue is scheduling another round of Virtual Friday coffees through the fall semester and, we hope, might even take a hybrid approach if once we are able to welcome non-Yale Fellows to work in Farmington sooner than that. All LWL Fellows are invited to speak about their work in connection with the Library's collections. Those  interested in presenting should email Sue at susan.walker@yale.edu.