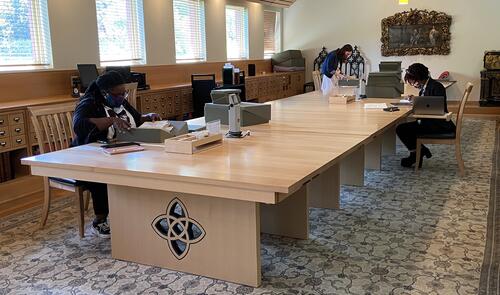 Welcome Back!
We were delighted to welcome three Yale Graduate Student Summer Fellows to the Library in mid-June and look forward to a fourth beginning mid-August. Their arrivals mark the next important step in our gradual return to full researcher services and programs as they are the first fellows to be in residence since the Library closed for the pandemic. Special permission was obtained from the University to offer accommodations in the Timothy Root House, the eighteenth-century readers' residence on the Library's Farmington campus, and an important component in the fellowship experience.
We remain hopeful that at some point in the coming academic year, we will again be able to receive researchers unaffiliated with Yale to conduct research at the Library.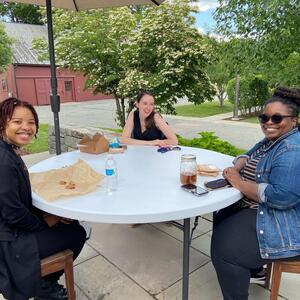 Alycia Hall, fifth-year graduate student in the Departments of History and African American Studies, came to undertake research on Strategic Ties: Family, Land, and Plantation Connections in Maroon Jamaica. Teanu Reid, fourth-year graduate student also in History and African American Studies, researched Hidden Economies and Finances in the Early Anglo-Atlantic World.  Michaela Haffner, fourth-year graduate student in the Department of the History of Art,
 All three found a wealth of materials in the library's collection to support their dissertation research. None of the students had visited the library before, but all were extremely satisfied with the LWL Fellowship experience and said they would definitely recommend the Fellowship program to their colleagues. One Fellow observed, "it's great collection that has more than you might realize until you are at the library." Another commented, "Rich collection, fantastic staff – all in an idyllic location."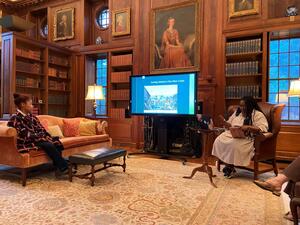 As part of their Fellowships, and in another step toward a return to normal Library operations, Alycia, Teanu, and Michaela each gave a brief presentation on their research during Friday coffees in the New Library.
Rounding out the summer is our fourth Yale Graduate Student Summer Fellow Teddy Delwiche of the Department of History who will be in residence in Farmington to work on Mastering the Manuscript: Shorthand in the Early Modern Atlantic World. We intend to do our best to ensure that he has an equally productive and worthwhile experience.