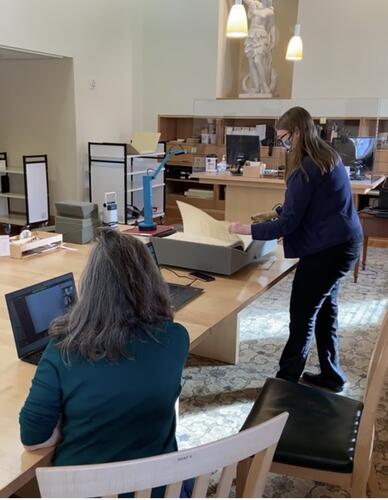 How do we support research when our patrons cannot access our collections in person? It is not unusual to get questions via email or telephone seeking information found only in the Lewis Walpole Library. Often a reply with details and photos will suffice. But there are times when a researcher's needs are more extensive and require live conversations with a librarian or curator and interaction with physical collection materials. While working from home, Library staff had already embraced videoconferencing to offer remote consultation with scholars from around the world, and, when we returned to the Library in the Fall, we discovered the added value of using an electronic document camera to deliver live video images of collection materials.
We were by no means alone in our move to embrace the use of such a document camera, and demand exceeded supply, causing a delay in obtaining one.  Thanks to the generosity of Bill Landis, Associate Director for Public Service in Manuscripts & Archives, who lent us one of their VZ-X document cameras, we could share collection materials over the Zoom connection.
Public Services Assistant Kristen McDonald mastered the set-up and use of the VZ-X document camera, and together she, Curator Cynthia Roman, and Head of Public Services Sue Walker have made prints, drawings, manuscripts, and printed texts available through videoconferencing. We thus became the researchers' hands and turned pages, magnified images to show details, answered questions, shared knowledge, and provided our users with an experience that was the next best thing to being here. One former fellow is working on an exhibition for the Library, and the consultation was instrumental in enabling him to select objects for inclusion and to plan installation layout. Another former fellow who was writing an article needed minute details about the measurements, placement, and design of specific physical features, including watermarks, in a volume of manuscript music. A scholar working on a conference paper was able to discuss Library holdings with Cynthia Roman and identify the most relevant materials.
In addition, Sue and Cynthia, with Kristen's support, taught a class session for the first-year seminar HUMS 096 01 (SP21): "Collecting History: 'Treasures of Yale'" to introduce the students to the collection generally and prints and drawings, extra-illustrated volumes, and the graphic work of William Hogarth specifically, all remotely.
Users who cannot physically come to Farmington are still able to engage with collection materials and Library staff through this dynamic interaction. While we are eager to welcome back those who are anxious to return to in-person learning and research in the Library, the technology in place opens exciting possibilities for ongoing remote consultation and far-reaching instruction now and into the future.
Sue is offering virtual Zoom office hours Tuesday and Thursday mornings from 9 to 10 a.m., and she's also happy to schedule other times to accommodate researchers on the West Coast or in more distant time zones. Schedule a consultation with Sue or email her at susan.walker@yale.edu. To schedule a meeting with Cynthia, email her at cynthia.roman@yale.edu.