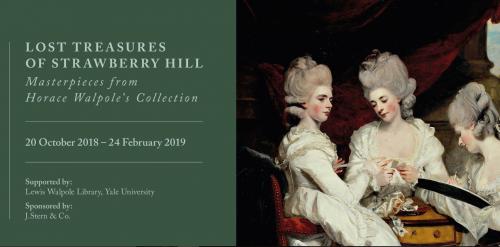 The Lewis Walpole Library is delighted to support the exhibition "Lost Treasures of Strawberry Hill: Masterpieces from Horace Walpole's Collection"  on view at Strawberry Hill house from 20 October 2018 through 24 February 2019. The Library is not only providing financial support but is also lending items formerly in Walpole's collection, sold at the 1842 sale of the house's contents, and later acquired by W.S. Lewis. Among the 30 treasures to be loaned by the LWL are manuscripts, books, paintings, drawings, furniture, and objects.
Included will be six illustrations for Horace Walpole's tragedy The Mysterious Mother,  which will be displayed in the Beauclerk Closet , the room purpose-built for them by Walpole; oil on canvas "Portrait of Charles Churchill, Lady Maria Walpole and their eldest son Charles",  by John Giles Eccardt, which will return to the Blue Bedchamber where it originally hung with other portraits of Walpole himself and members of his circle by the same artist; John Astley's portraits of Sir Horace Mann  and his brother Galfridus, which will hang once again in the Great Parlour ; a letter to Walpole from Madame du Deffand , the gold snuffbox bearing the portrait of Madame Du Deffand's dog Tonton, and the self-portrait miniature by artist Jean-Etienne Liotard which will once again be shown in the Tribune ; and three watercolors painted by Walpole which will hang in his bedchamber, as they did in Walpole's day.
Accompanying the exhibition will be a publication by Silvia Davoli, Research Curator at Strawberry Hill and former LWL Fellow. Dr. Davoli is also author of the "Strawberry Hill Treasure Hunt" blog ,where she writes about her search for items from Walpole's collection whose current whereabouts are still unknown.