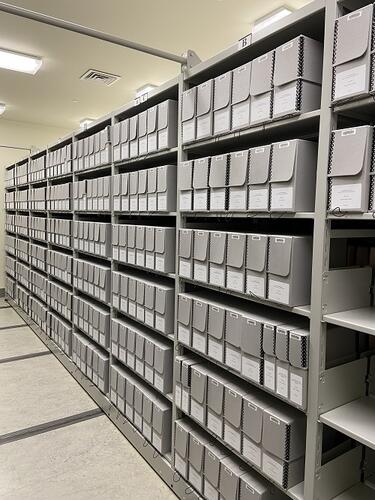 One of Catalog Assistant Eileen Horansky's major projects for the last two years at the Lewis Walpole Library involved cataloging the sizeable collection of sales and auction catalogs, one of the last hidden collections. After consulting and discussing options with Head of Technical Services Ellen Cordes and archivist Sandra Markham, they decided that the eighteenth- and nineteenth-century catalogs should continue to be cataloged individually in the library's online catalog Orbis for consistent access to these earlier publications, but that the twentieth- and twenty-first-century catalogs be treated as an archival collection. Treating the catalogs as an archival collection invites interesting new insight into W.S. Lewis's collecting life as he built what would become the foundation of the Lewis Walpole Library. With over 3000 items, this collection offers a fascinating glimpse into Lewis's involvement in the twentieth-century book trade as there are catalogs from English, American, and continental dealers; many catalogs include correspondence with dealers as well as his own notes and annotations. Later catalogs reflect the ongoing collecting interests of the Lewis Walpole Library as an institution, and the Library intends to add to the collection as appropriate. 
Eileen began work on this collection in January 2020, but COVID-19 lockdown in March meant she had to stop work almost as soon as she started, or so it felt. Happily, when staff returned to the library part-time in September 2020 she picked back up right where she had left off and completed processing the collection early in 2021. The finding aid for the Lewis Walpole Library Sales and Auction Catalog Collection is now available on archives.yale.edu. Have a look!  
______________________________________________________________________
After three years as a Catalog Assistant, Eileen Horansky left the Lewis Walpole Library in August 2021 to pursue a PhD in English literature at The Ohio State University, where she will study eighteenth-century literature and the history of the book.