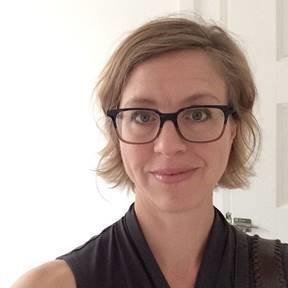 Like many of our colleagues in special collections and museums at Yale and more widely, we at the Lewis Walpole Library are disappointed that we are not able to host programs and welcome researchers to beautiful Farmington during this time. We miss the fellowship of scholars and students and the joy of sharing the collections.
At the same time, we embrace our new digital reality as an opportunity to reach larger audiences. We are so encouraged by the tremendous response to our first live online program. We are not, however, surprised at the draw of Amelia Rauser and her scholarship and are thrilled that she delivered her lecture "Black Bodies and Neoclassical Whiteness in the Age of Undress" to inaugurate live online programs under the Lewis Walpole Library banner. The lecture is now available on Yale Library's YouTube Channel.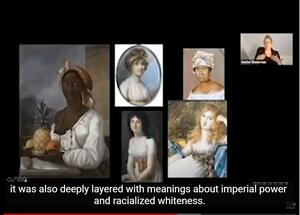 This lecture had been scheduled for April 2, 2020 as part of the Sterling Memorial Library Book Talk Series featuring Professor Rauser's The Age of Undress: Art, Fashion, and the Classical Ideal in the 1790s newly published by Yale University Press to coincide with "Artful Nature: Fashion and Theatricality, 1770 -1830," an exhibition at the Lewis Walpole Library co-curated by Laura Engel (Duquense University) and Amelia Rauser.  At this point, not to miss the opportunity to host this event, the library shifted to present the lecture as a Webinar. Embracing scholarly acknowledgement that some legacies of the eighteenth-century have lasting impact for unsettling current events, in this talk Professor Rauser drew on material from her book to address the ways in which neoclassical dress, which was "overwhelmingly, distinctively white," also "incorporated gestures to plantation culture and enslaved people of the West Indies."
 Joseph Roach introduced the speaker. Following the formal lecture and Carolyn Day (Furman University) and Jennifer Germann (Ithaca College) joined the panel to moderate a lively Q&A submitted by participants through chat.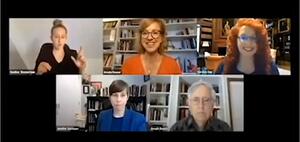 By many measures the online event was a big success. There were 278 attendees from 14 different countries. More than 30% of the attendees were from outside the United States. The lecture described as "superb" by one attendee, received high reviews and prompted lively scholarly conversation on social media.  Striving to make this as accessible to wider audiences as possible, the library provided both an American Sign Language Interpreter and Closed Captioning. One attendee commented appreciatively that this was the first webinar they had attended with an ASL Interpreter.
Other programs connected with "Artful Nature" are also now online for public viewing. The exhibition opened February 6th with a keynote lecture, both erudite and entertaining, by Professor Joseph Roach, Sterling Professor Emeritus of Theater, and English at Yale University. Titled "Fashionable Enemies: Glamour as Argument, 1770-1830," Professor Roach's lecture is now available on the Yale Library YouTube channel where it has over 700 views to date. Joe's title Fashionable Enemies is of course a twist on the title of the play Fashionable Friends (1801) by Mary Berry which was to be performed at the library this May under the direction of Laura Engel together with a workshop on "Female Friendship and Creativity."  Please watch for updates as we work to reschedule these programs.
Additionally, an online version of the "Artful Nature" exhibition is now available from the library's website. A short tour of the exhibition in Farmington with curators Amelia Rauser and Laura Engel is also on the Yale Library YouTube channel. 
Please watch for future Lewis Walpole Library programs online and, at some point, we anticipate again in person. Among these is "Viewing Topography Across the Globe" a two-day program postponed from April 29 to May 1, 2020 now scheduled for May 13-14, 2021.