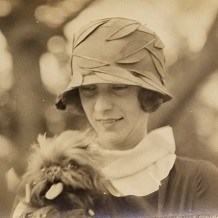 Lewis Legacy Archivist Sandra Markham is completing the processing of the twentieth-century Lewis family archival material held by the library. Sandra arrived in July 2016 from the Beinecke Library, where she had served as an archivist for eleven years. She first inventoried, organized, and documented the Lewis household objects collection and turned her attention to processing the Lewis archives last summer.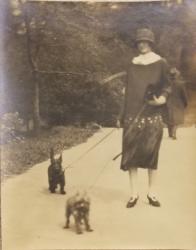 Annie Burr Auchincloss Lewis with dogs
The archives consist of the correspondence, writings, and personal and financial papers of W.S. Lewis and Annie Burr Lewis as well as the editorial project records of the Yale Edition of Horace Walpole's Correspondence, most of which were housed in aged file folders and cabinets in the Muniment Room located in the basement of the Cowles House. Sandra surveyed, sorted, and organized the papers into five separate collections and has created extensive finding aids for each. The archives have been rehoused in acid-free folders and boxes to preserve them, and enable them to be much more easily delivered to the researchers who will now be able to discover them through Yale's online database of archival collections.