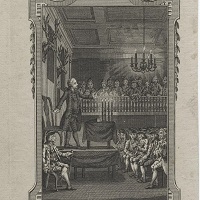 Although for many of us there is nothing like connecting with colleagues face to face, the changes brought about by the pandemic and subsequent stay-at-home orders have opened exciting scholarship to audiences across the world. Unlike location-bound conferences and lectures, online presentations and performances enable wide participation. At the forefront of contributors to the myriad online initiatives established in the last three quarters of the year are Lewis Walpole Library Fellows. What follows is a selected playlist of sorts to get us all through the dark winter ahead by shining light on a range of fascinating topics relevant to the long eighteenth century. So many events are online, in fact, it's hard to keep up with them.
Lectures, Workshops, Seminars
"ODSECS Open Digital Seminar in 18th-Century Studies," convened by Dr. Rebecca Bullard, Associate Professor of English Literature at the University of Reading, UK
Seminar 1 Sophie Coulombeau "Unlocking the Mary Hamilton Papers."   
Seminar 2 Eugenia Zuroski "Haywood's fascinum"
Seminar 4 Freya Gowrley "Anna Seward and the Poetics of Exchange: Portraiture, Poetry and Gift Culture"
Seminar 6 Rebecca Anne Barr "The Good Man on trial, or, male virginity and the politics of misogyny"
Seminar 7 Robbie Richardson "Sacred Medicine at Strawberry Hill: British Antiquaries and Indigenous Objects"
Upcoming:
Seminar 9: Friday, 26 February 2021 (4pm UK time; 11am Eastern time; 8am Pacific time) Julie Park "The Camera Obscura and Built Environments of Inner Life in 18th-Century England"
Seminar 10: Wednesday 17 March 2021 (4pm UK time; 12pm Eastern time; 9am Pacific time) Madeleine Pelling "Digging Up the Past: Contested Territories and Women Archaeologists in 1780s Britain and Ireland"
The "Twickenham Luminaries Virtual Lecture Series," created by five Twickenham Historic organizations
Judith Hawley "Alexander Pope and His Villa"
Michael Snodin "Horace Walpole and Strawberry Hill"
London Art Week
Silvia Davoli "So Eminently a Classic Genius": the British Sculptor Anne Seymour Damer (1748-1828)"
Manchester Metropolitan University Department of English series of short films to celebrate LGBT History Month (February) 2020
              Dale Townshend "Horace Walpole"
              Dale Townshend "Matthew Lewis"
Clarence Brown Theatre "Theatre Thursdays"
              Misty Anderson "Theatre as a Social Tool"
British Association of Romantic Studies Digital Events Programme
              Sophie Coulombeau on "Digital Editions in Romantic Studies"
Online Publication
Art & The Country House, edited by Martin Postle, Deputy Director for Grants and Publications at the Paul Mellon Centre for Studies in British Art,
Jocelyn Anderson "Visiting and Writing on Country House Art Collections in the Eighteenth and Nineteenth Centuries"
Esther Chadwick "Patterned with Paper Pictures: The Print Room at Petworth House"
Jonny Yarker "Continuity and the Country House: Preservation as a Strategy of Display from 1688 to 1950"
Jonny Yarker "'The Noblest Pyle Among Us': Raynham in its Local Context"  
Jonny Yarker "Trewithen and Its Cornish Context in the Early Eighteenth Century"  
Performance
Emperor of the Moon by Aphra Behn, adapted by Misty Anderson, Charlotte Munson, & Charles Pasternak.
Fellows have been very busy, and more details about their scholarly work are in the Fellows News section below. Because of the Lewis Walpole Library's intimate reading room, personal service, and on-site residential accommodations, we feel a special bond with our Fellows and they with each other. There are, of course, also many valuable contributions to scholarship by researchers who have not been Fellows. We hope to welcome them in Farmington as Fellows or researchers in the future. The above is surely not a comprehensive list, and we welcome additions and suggestions.
by Susan Walker