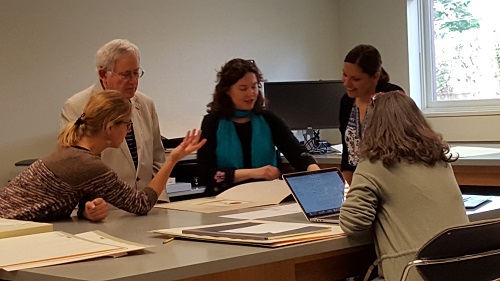 When a visitor comes to see an exhibition, whether in person or online, he or she sees the results of a successful team collaboration. The process of planning, selection and preparation of collection materials, installation, and publicity and outreach that produces a successful exhibition at the Lewis Walpole Library involves the contributions of everyone on the LWL staff in Farmington, as well as Yale colleagues in New Haven, in support of the exhibition's curator, often a student, faculty member, or fellow from outside Yale, but one who has usually been affiliated with the Library in some way. Cynthia Roman, Curator of Prints, Drawings, and Paintings, serves as manager of exhibitions, overseeing planning and working with others to set schedules and budgets and to develop associated programming in collaboration with co- or guest curators, often a workshop, mini-conference, lecture, or class. In addition, she coordinates the writing and editing of the brochure and labels.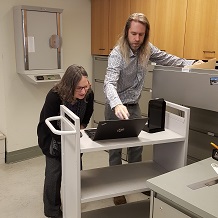 Cindy also serves as registrar and manages all requests to borrow items from other collections. She also collaborates with Kerri Sancomb, Exhibitions Program Manager in the Yale University Library Preservation Department, and the exhibition curator, to plan the selection and layout of items in cases and on walls, while conservator Laura O'Brien Miller examines each exhibition item and determines whether and what form of treatment may be required to repair and/or stabilize pieces before installation. Kerri ensures all items are matted and mounted securely for display, and she installs the items and labels in the exhibition gallery.
Once the final selection of objects has been made, Ellen Cordes and her team in Technical Services ensure that all items to be exhibited are fully cataloged online, and Public Services Library Assistant Kristen McDonald prepares items for professional photography at the LWL and for transport to the conservation lab in New Haven. Two staff members, often Building Operations Assistant Jason (Jay) Lomnicky and Catalog Assistant Scott Poglitsch, courier the collection materials between Farmington and New Haven.
Kristen also provides administrative support by managing the documents and images shared online between the LWL and appropriate departments on campus, whether Preservation or the Office of the University Printer, and she creates an online version of the exhibition after it has closed.
Rebecca Martz, Publications Specialist in the Office of the University Printer, works closely with both Cindy Roman and Susan Walker, Head of Public Services, on design and publicity components. Rebecca designs the exhibition brochure, labels, and wall vinyl, as well as graphics for publicity. Sue manages all publicity for the exhibition both within Yale and to the broader community, and collaborates with program staff at the Farmington Libraries to co-organize an evening talk for Farmington area residents.
Building Operations Manager Tom Charette and Jay Lomnicky handle the preparation of the exhibition gallery—painting, applying wall vinyl, and adjusting lighting, etc, – and monitor the climate control throughout the run of the show. Michelle Privée coordinates all travel for the curator(s) and people involved in exhibition programs and processes all invoices and payments.
Indeed, mounting an exhibition is truly a team effort.