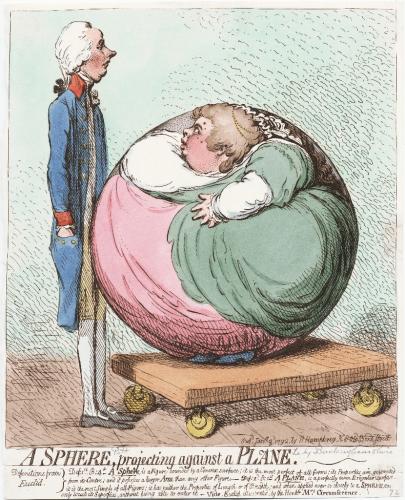 Rachel Brownstein: Professor Emerita, Brooklyn College and The Graduate Center, CUNYand co-curator of Character Mongers, or, Trading in People on Paper in the Long 18th century
Friday, November 18, 2016
10 am to 3 pm
The Lewis Walpole Library, Farmington
Offered in connection with the exhibition of the same title, on view October 10-January 27
Caricature relies on a double take: you recognize both the person represented and the artist's critical, comic view, register both the familiar and the strange.  Basic to what E.H. Gombrich called "the cartoonist's arsenal" is the contrast between extremes, differences in scale (fat and thin, short and tall) that define a character in relation to another (the thing it is not).  Pairings proliferate, sometimes by accident, always by design.   
History has a hand in the process.  The fathers of Charles James Fox and William Pitt were also political rivals, and Fox in fact was plump and Pitt skinny.  But as Simon Schama imagines it, the artist James Gillray, commissioned in 1789 to produce a formal portrait of Pitt, could not but see him with a caricaturist's eye, as "angular where Fox was sensual, repressed where Fox was spontaneously witty, … the upper lip stiff as a board, where both of Fox's were fat, shiny cushions."  Schama speculates, "How could he resist? He didn't.  The 'formal portrait' looked like a caricature, or at the very least a 'character.'" Is the one a version of the other? 
Coming with different questions from different disciplines, we will consider caricatures by Gillray and others, bringing fresh perspectives to the questions they raise about the relation of caricature to character and to being 'a character,' as well as to the trick of contrast, to historical context, and to point of view.             
The program is open by application. Preference will be given to graduate students. For further details contact Cynthia Roman cynthia.roman@yale.edu. Yale Shuttle to and from New Haven. Accommodation at the Library's Timothy Root House may be available at no charge upon inquiry.