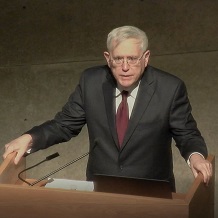 Joseph Roach, Sterling Professor Emeritus of Theater and Professor Emeritus of English, Yale University, presented the keynote lecture Fashionable Enemies: Glamour as Argument, 1770-1830 in connection with the opening of the Library's spring 2020 exhibition Artful Nature: Fashion and Theatricality, 1780-1830. His lecture title is a reference to Mary Berry's 1801 play Fashionable Friends, a comedy of manners first presented at Strawberry Hill and now postponed from its previously scheduled May performance at the Lewis Walpole Library. Professor Roach, a long-time friend of the LWL and eminent scholar of eighteenth-century theater and literature, spoke about performance studies, glamour vs. argument, mental beauty, natural theatricality, and, with a nod to the twenty-first century, called a section of his talk "say yes to the dress."
Professor Roach's lecture explored the relationship of two female celebrities of the eighteenth century Mary "Perdita" Robinson, or "Glamour," and Mary Wollstonecraft, or "Argument," to the theater, fashion, reason, and each other. 
Professor Roach looked at a representation under the rubric of "mental beauty" that would reconcile glamour and argument, body and mind. Also highlighted were women accomplished in literature and the arts—Elizabeth Carter, Anna Letitia Barbauld, Angelica Kauffman, Elizabeth Linley, Charlotte Lennox, Hannah More, Elizabeth Montagu, Elizabeth Griffith, and Catharine Macaulay—who are depicted as muses in Richard Samuel's 1778 painting Portraits of the Characters of the Muses in the Temple of Apollo. Natural theatricality was exemplified in Professor Roach's lecture through comparing accounts of paratrepsis by a frightened protective quail, an equivalent distraction display by Sarah Siddons in the role of Constance in Shakespeare's King John, and the immediacy of action captured in sketches of Frances Kemble's portrayal of Juliet in 1830. In conclusion, Professor Roach celebrated his collaboration with Artful Nature exhibition co-curators Amelia Rauser and Laura Engel, and with LWL Fellow Ellen Ledoux, LWL Curator Cynthia Roman, and LWL Head of Public Services Sue Walker.
The exhibition Artful Nature: Fashion and Theatricality, 1780-1830 has been extended through the summer of 2020
The performance of Fashionable Friends has been postponed until the autumn.