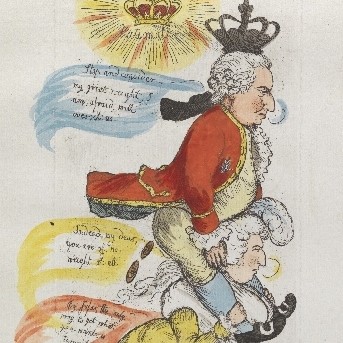 Misty Anderson (F'08) and Manushag Powell (F'05) have both been appointed trustees of the ASECS Women's Caucus. 
Ileana Baird (F'18) edited the collection, All Things Arabia: Arabian Identity and Material Culture, which was recently published from Brill and published in Open Access. She also edited Data Visualization in Enlightenment Literature and Culture, which came out from Palgrave MacMillan and is available here. Additionally, she authored two chapters in this collection, "Introduction: 'Speaking to the Eyes'-Reassessing the Enlightenment in the Digital Age," and "Outliers, Connectors, and Textual Periphery: John Dennis's Social Network in The Duncaid in Four Books."
Katherine Calvin (F'19) started as Assistant Professor of Art History at Kenyon College in August 2020. 
Sophie Coulombeau (F'14) was awarded a K. Blundell Trust Grant by the Society of Authors to support her novel in progress. 
Sara Crouch's (F19) article, "Grow Backwarder and Backwarder': Fissured Surfaces and Crooked Bodies in Frances Burney's Camilla," was published in Textual Practice, Volume 34, Issue 12 (December 2020) pp.1933-1953. (Published under preferred name Sara Fernandes.)
Emily Friedman (F'12) was awarded a Summer Competitive Research Grant from Auburn University. 
Daniel Froid (F'20) successfully defended his dissertation and was recently appointed Visiting Clinical Professor in Purdue University's Honors College and Director of R1: Research Accelerator, a learning community.
Elisabeth Gernerd (F'12) has received a Research Continuity Fellowship from the Paul Mellon Centre to continue research on Lady Rockingham and her mantua. 
Freya Gowrley (F'16) and Maddie Pelling (F'17) launched a new podcast about art in the 18th and 19th centuries, called Travelling Sisterhood of Art Historians (@TSAHpodcast). 
Ziona Kocher (F'20) was named Chair of the Graduate Student Caucus at the American Society of Eighteenth-Century Studies.
Kathleen Lubey (F'17) published "Teaching Eighteenth-Century Black Lives in Eighteenth-Century Culture" as part of a forum on race and pedagogy.  
Brian Maidment's (F'00) book, Robert Seymour and Nineteenth-Century Print Culture was published by Routledge in April 2021. 
Matthew McCormack (F'08) was elected Vice President of The British Society for Eighteenth-Century Studies. 
Kendra Packham's (F16) article, "Literature and the Culture of Elections and Electioneering in Eighteenth-Century England" was published in The Review of English Studies. 
Julie Park's (F'02) book, "Organic Supplements: Bodies, Objects and the Natural World, 1580-1750," was published by the University of Virginia Press. 
Julie Park (F'02) was awarded a Bibliographical Society of America fellowship to research 18th century pocket diaries to support her book project on self-inscription formats and the materiality of early modern writing. 
Maddie Pelling (F'17) was awarded a Royal Historical Society Early Career Fellowship Grant to continue work on her project "Graffiti in the Age of Revolutions: Romance, Ritual and Rebellion". 
Maddie Pelling (F'17) was awarded the British Society for Eighteenth-Century Studies 2021 Career Development Award. 
Chelsea Phillips (F'16) was awarded tenure and a promotion to Associate Professor at Villanova. 
Manushag Powell (F'05) published "The Legacy of State Dragons and the Monstrous Eighteenth Century", in Eighteenth-Century Fiction, Spring 2020. 
Bethany Qualls (F'18) co-wrote an introduction to Eliza Haywood's Fantomina with Sarah. R. Creel and Anna K. Sagal, published by Renard Press. She was also named a UC Davis Mellon Public Scholar and will complete the project "Recovering the Forgotten Women of Metal type Design" in partnership with Letterform Archive this summer. 
Matthew Sangster's (F'14) book, Living as an Author in the Romantic Period, was published by Palgrave in January 2021.
Tess Somervell (F'20) is now associated with Worcester College, Oxford.
Allison Stagg (F'11) was awarded a publishing grant by the Wyeth Foundation for American Art and CAA Advancing Art and Design, for her forthcoming book "Prints of a new Kind: Political Caricature in the United States". 
John Stone's (F'19) article, "The Earliest Spanish Dickens?," was recently published in Dickens Quarterly, Volume 38, Number 2, June 2021. 
Alexis Wolf (F'20) joined Dr. Claire Jones and Professor Alison Martin as Co-editor of The Palgrave Handbook of Women & Science: History, Cultures & Practice since 1600. 
Alexis Wolf (F'20) has started a two-year post as a Research Associate on the Davy Notebooks Project at Lancaster University, funded by the Arts and Humanities Research Council. 
Soile Ylivuori's (F"18) article, Whiteness, Polite Masculinity, and West-Indian Self-fashioning: The Case of William Beckford" was published in The Journal of Social History Society, April 2021.