Summer Greetings from Farmington! Several of our newly minted 2018/19 LWL Fellows are visiting at the moment, with more to come in the weeks ahead.  Our historic campus is bedecked in lush summer green, chipmunks and other wildlife scamper about, and the croquet lawn stands ready for leisurely summer lunch hours and evenings spent in friendly competition. In other words, a typical LWL summer!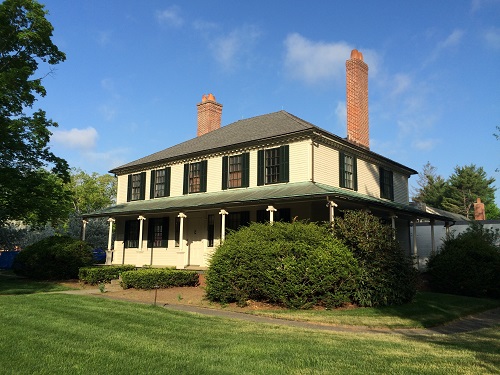 Above, Major General Solomon Cowles House, 154 Main Street, Farmington, CT
Behind the scenes (though not entirely invisible to our summer guests) we have embarked upon the long-awaited interior refurbishment of the Major General Solomon Cowles House. This two-story white Georgian-style house prominently situated on the corner of Main Street and Meadow Road, was built around 1784 for Revolutionary War Major General Solomon Cowles, and subsequently purchased by the Library's founder, Wilmarth S. Lewis, in 1926.
Yale Facilities, Knight Architecture, and Petra Construction are partnering with the Library on the Cowles House refurbishment effort. The core of the project involves several crucial mechanical upgrades, to ensure a safe, comfortable, and welcoming environment for all who enter the Cowles House. These upgrades include installation of a fire suppression system, air conditioning, overhaul of the heating and electrical systems, and the addition of a small passenger lift to provide ADA-compliant access to the ground floor. Careful cleaning and restoration of interior surfaces will both refresh and preserve the essential historical appearance of the rooms.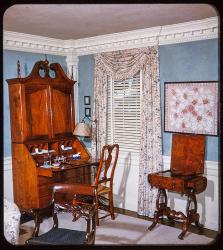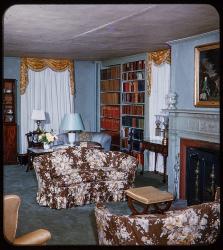 Above, view of the Morning Room (left) and Old Library (right), mid-twentieth century
Once the Cowles House project is completed, in the early summer of 2019, the house will again be fully integrated into the fabric of the campus – to quote Lewis – as "a center for eighteenth-century studies under pleasant circumstances". The refurbished historic interiors will be outfitted with many of the original, Lewis-era furnishings, evoking the lifestyle and hospitality that greeted countless friends, family, and visitors during their residency.  The downstairs living room, dining room, and parlor will accommodate small group gatherings, while the upstairs bedrooms will become a small conference room and two scholars' studies. 
By happy coincidence, the reopening of the Cowles House, in fall 2019, will coincide with the 40th anniversary of the Yale Corporation's acceptance of Wilmarth Lewis's bequest establishing the Lewis Walpole Library as an official department of the Yale University Library system. Various events, an exhibition, and conference are being planned for the year, beginning with an open house and lawn party in late September. 
So, mark your calendars now, and plan to join us in 2019/2020 as we celebrate both the reopening of the newly refurbished Cowles House and the living legacy of Wilmarth and Annie Burr Lewis's "Yale in Farmington".