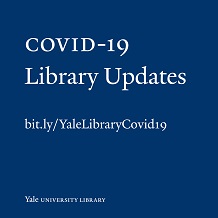 As of the writing of this newsletter, in accordance with Yale University's response to the Covid-19 pandemic, the Lewis Walpole Library campus as well as all Yale University Library buildings in New Haven are closed until further notice. Yale Library staff are working remotely, continuing to provide online support for Yale classes and research.   
Lewis Walpole Library staff members are assisting with this effort, while also responding to general reference inquiries and requests for research services that can be fulfilled without direct physical access to the library campus and collections.  In addition, other on-going work and projects are being carried out from our "work-from-home" offices, while social media and other technologies enable the LWL staff to stay in close contact and meet virtually with each other, our Yale colleagues, LWL Fellows and other friends and affiliates worldwide. 
As a consequence of the Library's physical closure, the planned residencies of the six remaining 2019-2020 LWL Fellows have been deferred, and summer and early fall scheduling for the 2020-2021 cohort of Research Fellows and Travel Grant recipients also is on hold.
In addition, all of the Library's spring academic and public programs have been postponed, including the 25th Lewis Walpole Library Lecture, What are Dogs Doing in 18th-Century British Art?, to be delivered by Professor Emeritus Thomas Laqueur of the University of California at Berkeley, originally scheduled for April 1. Other deferred programming includes the much-anticipated performance of Mary Berry's play Fashionable Friends, directed by Laura Engel, offered in connection with the wonderful spring exhibition Artful Nature: Fashion and Theatricality 1780-1830, and our LWL Fellows reception at the now-cancelled annual ASECS Conference in St. Louis.
While we deeply regret the postponement of programs and fellowship visits this spring, we look forward to what we hope will be a very busy year of programming and visiting Fellows in 2020-2021! So keep an eye on the Library's website and social media pages for announcements about rescheduled spring events and new 2020-2021 programming in the months ahead.  
External link: 
https://web.library.yale.edu/news/2020/03/updates-covid-19-yale-library-online