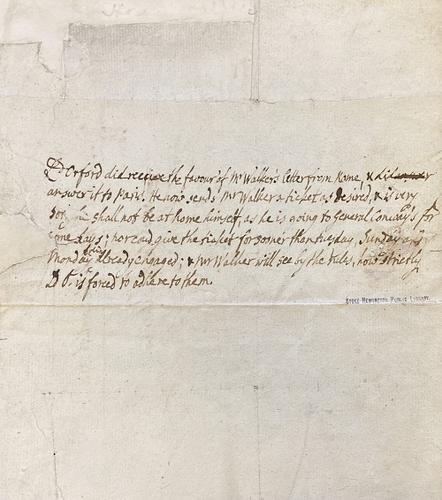 Sometimes, wonderful things turn up in the most unexpected places!
In January 2006 the Library purchased at auction a collection of printed portraits, topographical views, real estate advertisements, maps, and other ephemera associated with the English historian and collector Horace Walpole (1717-1797), his family, and their properties. A majority of the items are plates produced for publications, and over half of the collection is related to two of the Walpole family's estates, Strawberry Hill in Twickenham, Middlesex, and Houghton Hall near King's Lynn, Norfolk. Following the purchase, a collection-level catalog record was added to the library's online catalog, Orbis, and the material was shelved in wait for a reader with a particular interest in Horace Walpole's family and their real estate.
Last month, archivist Sandra Markham took an item-by-item look through the collection, organized it, and created a finding aid to more fully reveal its contents. Tucked in among a group of miscellaneous papers filed at the end, which included printed pages removed from earlier editions of Walpole's Correspondence, was a small scrap of laid paper with a manuscript note in brown ink. Its content matched exactly a brief letter from Walpole to Joseph Cooper Walker dated September 20, 1792. The text of the note had been published in volume 42 of the Yale Edition of Horace Walpole's Correspondence, but Wilmarth Lewis and his editors had never seen the letter themselves. Instead, they cited it as having been "First printed in Walford's Antiquarian: A Magazine and Bibliographical Review, 1885, viii. 277; reprinted, Toynbee xv. 450-1," and noted that "the MS is untraced until sold Sotheby's 20 Dec. 1877 (Collection of Autograph Letters Sale), lot 51 (with six other letters from HW to Walker, 1787-92), to Naylor; penes Dr H. T. Scott in 1905; not further traced."
Now, sitting on a desk in Farmington, in February 2020, was that very letter, whose whereabouts had been unknown for 115 years!
Exploring the provenance of the collection further, Markham determined that the ephemera collection at Farmington had formerly been owned by the Stoke Newington Public Library, located in the Borough of Hackney in northeast London. In 1905 the public library was the beneficiary of a substantial bequest from the antiquarian collector and historian Edward J. Sage, one of the founding library commissioners for Stoke Newington. His bequest included more than five thousand books and a large collection of prints, manuscripts, and ephemera. While it is not certain, Markham concluded that much, if not all, of the material in the ephemera collection also came from the Sage bequest. Sandra also discovered that other Walpole-related items from the bequest had been purchased at auction or from dealers by Wilmarth Lewis during his lifetime and by the Lewis Walpole Library afterward. This material can be identified by searching 'Stoke Newington Public Library' in the Yale University Library catalog.
As for the Walpole-Walker letter, having been in 1905 in the possession of the autograph dealer Henry T. Scott, it must have made its way into the public library's Walpole files through a donor other than Sage, before being deaccessioned by the library in 2006 and finding its way to Farmington.
A discovery just such as this illustrates but one of the reasons why careful processing of archival collections is so important. The complete finding aid for what is now titled the Walpole Family Ephemera Collection can be viewed here: https://archives.yale.edu/repositories/8/resources/11730.