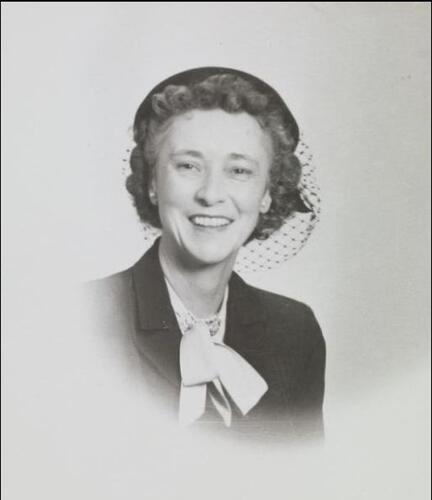 Annie Burr Lewis (1902-1959) is arguably best known for being the wife and helpmate of W.S. Lewis and for contributing her personal fortune to finance the Yale Edition of Horace Walpole's Correspondence and the Lewis Walpole Library. But Annie Burr left a lasting legacy not only to projects on which she partnered with her husband but also to a range of causes in which she was personally interested. The Library's latest exhibition "Doing Good by Stealth: The Philanthropy and Service of Annie Burr Lewis," explores the ways Annie Burr participated in and contributed to the work of organizations involved in education, historic preservation, and nursing, at Yale, in Farmington, regionally, and nationally.
It is a challenge to find examples of Annie Burr's voice, either written or captured in audiovisual media, unlike that of her husband. She wrote no autobiographical works, and in contrast to the voluminous correspondence of W.S. Lewis, which contains incoming letters as well as carbon copies or drafts of his replies, drafts or carbon copies of Annie Burr's letters were seldom made or retained. The 2012 exhibition "Dancing on a Sunny Plain: The Life of Annie Burr Auchincloss Lewis" provided a biographical sketch of her life drawn from the surviving Lewis archives, stored at the time in file cabinets and boxes in a basement area designated as the Library's "Muniment Room". The processing in 2018 of the Lewises' joint archives, and the creation of a detailed finding aid to the Annie Burr Lewis Papers enabled a more systematic and in-depth examination of the surviving records and thus, for a range of questions to be investigated. Why did Annie Burr become involved in philanthropic work to begin with? What and who influenced her choice of organizations to support? How did she contribute to their work? How are the effects of her philanthropy and service still felt?
A picture emerges of a woman, undeniably the product of her period and background, groomed from girlhood to take her place among her peers in participating in philanthropic and civic engagement, who used her strengths to meet the needs of organizations. The many tributes that poured in following her death eloquently and poignantly articulated the personal characteristics which marked her contributions of time and expertise as well as the myriad ways she quietly furthered the activities about which she cared so deeply. 
The organizations which she served in the first half of the twentieth century carry on today building upon her work and reaching new audiences with broader programming. At Yale, the Annie Burr Lewis Fund at Yale University Press underwrites the publication of current scholarship in the world of the long eighteenth century, graduate students receive funding thanks in part to her generosity, and, of course, the Lewis Walpole Library makes its growing collections available to researchers around the world and collaborates with other cultural heritage organizations in Farmington. Furthermore, historic buildings Annie Burr documented, bought, rescued, or restored endure, and the Farmington Library's "File of Farmington Homes" that she compiled with the Town Historian has been updated, digitized, and made available online.
This exhibition was originally scheduled to open at the Library in the summer of 2020 as part of the university's 50/150 celebration of women at Yale and to mark the end of the year-long celebration of the Library's 40th anniversary, which began with the exhibition about Lewis's work in "Rescuing Horace Walpole: The Achievement of W.S. Lewis." However, the pandemic disrupted Library operations and access, and the plans for a physical installation in the gallery ultimately had to be abandoned. "Doing Good by Stealth" has been reimagined as an online-only exhibition, available at https://onlineexhibits.library.yale.edu/s/doing-good-by-stealth/page/intro.