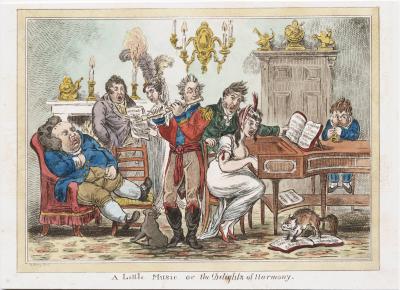 Evening Public Talk: "The Land without Music: Satirizing Song in Eighteenth Century England" by Amy Dunagin
Thursday, May 18th, 7pm
The Lewis Walpole Library, 154 Main St. Farmington CT 06032
Evening public talk by Amy Dunagin, Postdoctoral Associate, European Studies Council, Yale University, and Managing Editor, Eighteenth-Century Studies, and curator of the exhibition "The Land without Music: Satirizing Song in Eighteenth-Century England" at the Lewis Walpole Library. The talk is presented in collaboration with the Farmington Libraries.
Talk with Edward Koren
Edward Koren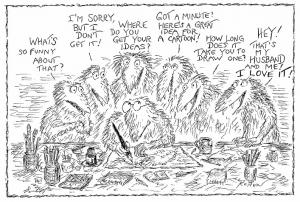 Cartoonist for The New Yorker magazine
Tuesday, December 13, 2016
 
Edward Koren's iconic images record the comedy of manners in society and politics that have captured his attention for decades. In this talk, he will reflect on his career as a New Yorker artist, and on the many and diverse influences that have contributed to the development of his thinking and drawing.  
"In my cartoon drawings, I like getting things right… What captures my attention is all the human theater around me. I can never quite believe my luck in stumbling upon riveting minidramas taking place within earshot (and eyeshot), a comedy of manners that seem inexhaustible. And to be always undercover makes my practice of deep noticing more delicious. I can take in all the details as long as I appear inattentive – false moustache and dark glasses in place. All kinds of wonderful moments of comedy happen right under my nose…"
On Cartooning, by Edward Koren
The art of observational satire: a conversation with Rachel Brownstein and Edward Koren
Moderated by Cynthia Roman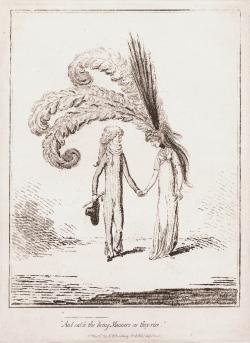 Wednesday, December 14, 2016
 
Room 38-39
Beinecke Rare Book and Manuscript Library
121 Wall St, New Haven, CT 06511
Edward Koren, a long-time cartoonist for The New Yorker, and Rachel Brownstein, a literary scholar, will reflect on the enduring tradition of social satire.
---
Public Talk: Eating People
Rachel Brownstein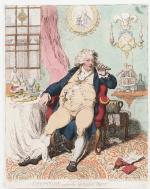 Professor Emerita, Brooklyn College and The Graduate Center, CUNY
Wednesday, November 16, 2016
 
Offered in collaboration with the Farmington Libraries. 
---
Past Lewis Walpole Library Lectures
2015: Twenty-second Lewis Walpole Library Lecture
Mr. Boswell Goes to Corsica: Charismatic Authority in the Age of Democratic Revolutions
David A. Bell, Sidney and Ruth Lapidus Professor, Department of History, Princeton University
October 6, 2016
2014: Twenty-first Lewis Walpole Library Lecture
Offensive Vulgarity in an Age of Enlightenment
Steve Bell, principal editorial cartoonist for The Guardian
Thursday, October 23, 2014
2013: Twentieth Lewis Walpole Library Lecture
The Ladies Library: Or, Benjamin Franklin's Sister's Books
Jill Lepore, David Woods Kemper '41 Professor of American History, Harvard University
November 8, 2013
2012: Nineteenth Lewis Walpole Library Lecture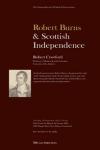 Robert Burns and Scottish Independence
Robert Crawford, Professor of Modern Scottish Literature, University of St. Andrews
September 20, 2012
2011: Eighteenth Lewis Walpole Library Lecture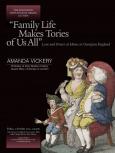 Family Life Makes Tories of Us All": Love and Power at Home in Georgian England
Amanda Vickery, Professor of Early Modern History, Queen Mary, University of London
October 21, 2011
2010: Seventeenth Lewis Walpole Library Lecture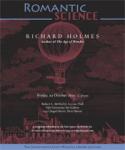 Romantic Science
Richard Holmes
Author of The Age of Wonder
October 29, 2010
2009: Sixteenth Lewis Walpole Library Lecture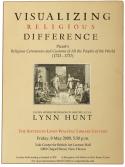 Visualizing Religious Difference: Picart's Religious Ceremonies and Customs of All the Peoples of the World (1723-1737)
Lynn Hunt
Eugen Weber Professor of History, UCLA
May 8, 2009
2008: Fifteenth Lewis Walpole Library Lecture
Feeling Free in the Enlightenment: Diderot versus Rousseau, or, Philosophy versus Lived Experience
by Leo Damrosch
the Ernest Bernbaum Professor of Literature at Harvard University
April 18, 2008
2007: Fourteenth Lewis Walpole Library Lecture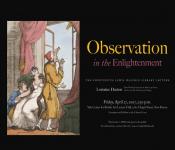 Observation in the Enlightenment
by Lorraine Daston
Max Planck Institute for the History of Science, Berlin, and The University of Chicago
April 27, 2007
2006: Thirteenth Lewis Walpole Library Lecture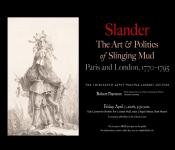 Slander: The Art and Politics of Slinging Mud, Paris and London, 1770-1795
by Robert Darnton
Shelby Cullom Davis '30 Professor of European History, Princeton University
April 7, 2006
2005: Twelfth Lewis Walpole Library Lecture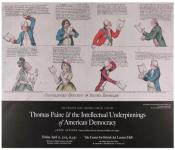 Thomas Paine and the Intellectual Underpinnings of American Democracy
by Joyce Appleby
Professor Emerita of History, UCLA
April 22, 2005
2004: Eleventh Lewis Walpole Library Lecture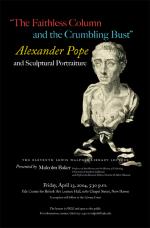 'The Faithless Column and the Crumbling Bust': Alexander Pope and Sculptural Portraiture
by Malcolm Baker
Professorial Research Fellow, Victoria and Albert Museum, London, and Professor, Art History and The History of Collecting, University of Southern California
April 23, 2004
2003: Tenth Lewis Walpole Library Lecture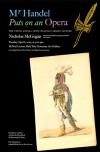 Mr. Handel Puts on an Opera
by Nicholas McGegan
Music Director, Philharmonia Baroque Orchestra, San Francisco
April 8, 2003
2002: Ninth Lewis Walpole Library Lecture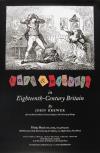 Love and Madness in Eighteenth-Century Britain
by John Brewer
John and Marion Sullivan University Professor, The University of Chicago
March 1, 2002
Country House weekend held in conjunction with the Lecture
March 1-3, 2002, Farmington
2001: Eighth Lewis Walpole Library Lecture
Et in Arcadia ego: The Eighteenth Century of the 1920s
by Terry Castle
Walter A. Haas Professor in the Humanities, Stanford University
February 16, 2001
1999: Lectures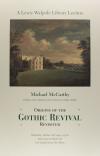 Origins of the Gothic Revival Revisited
by Michael McCarthy
Professor of the History of Art, University College Dublin
October 20, 1999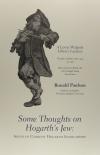 Some Thoughts on Hogarth's Jew: Issues in Current Hogarth Scholarship
by Ronald Paulson
Professor of English, The Johns Hopkins University
October 19, 1999
1999: Seventh Lewis Walpole Library Lecture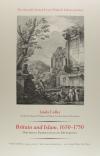 Britain and Islam, 1650-1750: Different Perspectives on Difference
by Linda Colley
Leverhulme Research Professor of History, London School of Economics
October 15, 1999
1998: Sixth Lewis Walpole Library Lecture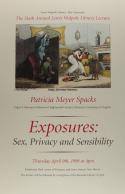 Exposures: Sex, Privacy and Sensibility
by Patricia Meyer Spacks
Edgar F. Shannon Professor of Eighteenth-Century Literature, The University of Virginia
April 9, 1998
1997: Fifth Lewis Walpole Library Lecture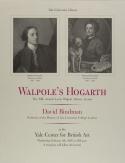 Walpole's Hogarth
by David Bindman
Professor of the History of Art, University College London
February 5, 1997
1995: Fourth Lewis Walpole Library Lecture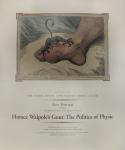 Horace Walpole's Gout: The Politics of Physic
by Roy Porter
Professor, The Wellcome Institute for the History of Medicine
April 5, 1995
1994: Third Lewis Walpole Library Lecture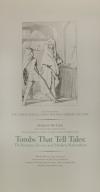 Tombs That Tell Tales: the Romance Revival and Modern Nationalism
by Marilyn Butler
Rector, Exeter College, Oxford University
March 24, 1994
1993: Second Lewis Walpole Library Lecture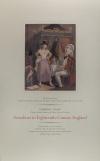 Sexualities in Eighteenth-Century England
by Lawrence Stone
Professor Emeritus, Department of History, Princeton University
April 15, 1993
1992: First Lewis Walpole Library Lecture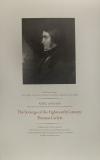 The Scourge of the Eighteenth Century: Thomas Carlyle
by Noel Annan
author of Our Age: English Intellectuals between the World Wars
April 8, 1992