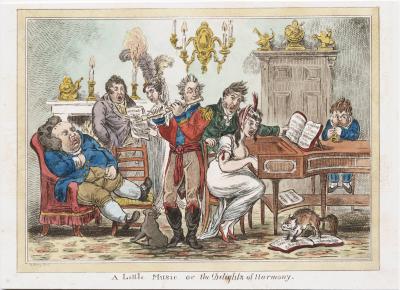 Evening Public Talk: "The Land without Music: Satirizing Song in Eighteenth Century England" by Amy Dunagin
Thursday, May 18th, 7pm
The Lewis Walpole Library, 154 Main St. Farmington CT 06032
Evening public talk by Amy Dunagin, Postdoctoral Associate, European Studies Council, Yale University, and Managing Editor, Eighteenth-Century Studies, and curator of the exhibition "The Land without Music: Satirizing Song in Eighteenth-Century England" at the Lewis Walpole Library. The talk is presented in collaboration with the Farmington Libraries.
Music pervaded public and private spaces in eighteenth- and nineteenth-century England; yet, in 1904, German critic Oscar Adolf Hermann Schmitz, heightening long-standing aspersions, dismissed England as a "land without music." This unflattering epithet pointed to England's meager contributions to the western musical canon during the eighteenth and nineteenth centuries—no English Gluck, Mozart, or Verdi; no English operatic or symphonic tradition that could rival those that flourished on the continent. The English, critics like Schmitz suggested, were importers rather than producers—tasteless consumers and dilettantes rather than discerning, proficient practitioners. This view did not originate with continental nationalists; in the eighteenth century the English often presented themselves as uniquely unmusical in print and in visual satire. At once self-effacing and boastful, this representation asserted a national character too sensible, too chaste, too sober to permit the excesses of musical genius. Bringing together satirical prints and documents pertaining to English music makers and listeners, this exhibition explores English attitudes toward music as lascivious, feminine, foreign, frivolous, and distinctly un-English.
Followed by refreshments and an opportunity to view the exhibition and ask questions of the curator.
Advance registration is required: http://bit.ly/2mJpBBs
---
Lecture: The Many Lives of Horace Walpole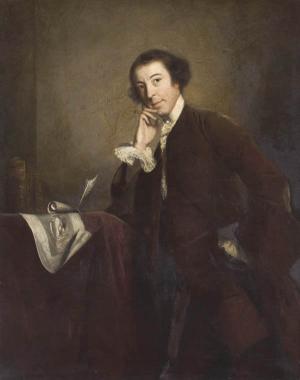 Thursday, October 26, 2017, 5:30pm
Yale Center for British Art Lecture Hall
1080 Chapel St, New Haven, CT 06510
George E. Haggerty, Distinguished Professor and Chair 
Department of English , University of California, Riverside 
In his charming biography of Horace Walpole, R.W. Ketton Cremer makes the point that "one of the difficulties which confront a biographer of Walpole is his remarkable versatility.  He was active in many fields—in politics, social life, literature, architecture, antiquarianism, printing, virtú; and it is not easy to include them all in the compass of a single volume."  George Haggerty, who is currently writing a new biography of Horace Walpole, will take up this challenge in his lecture with and through Walpole's letters. Haggerty asserts that Walpole writes himself into his experience by means of his epistolary imagination.